Kontron Brings Benefits of Quad-Core 3rd Generation Intel Core i7 Processor Technology to the Embedded Space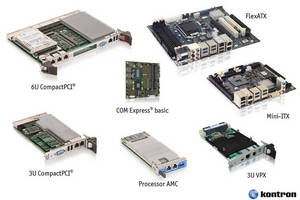 Kontron boosts Performance/Watt for high-performance embedded solutions with seven new application-ready platforms hosting the latest 22nm quad-core Intel processors.

Eching, Germany - Kontron today announced the support of the quad-core 3rd generation Intel Core i7-3615QE (4x2.3GHz, 6MB L2 cache) and i7-3612QE (4x2.1GHz, 6MB L2 cache) processors on seven embedded computing platforms, to match the market demands for ever increasing power savings and performance gains. These are the first boards and modules to feature the increased computing power, graphics performance, long-term availability and energy efficiency of the new transistor technology from Intel. Available in COM Express basic, Flex-ATX, Mini-ITX, AdvancedMC, 3U and 6U CompactPCI as well as 3U VPX, Kontron gives OEMs a jump-start in developing a broad range of leading-edge compute- and graphics-intensive applications.

Based on Intel's innovative 22-nanometer (nm) 3-D tri-gate transistor technology, the 3rd generation Intel Core i7 processor-based boards provide up to 20% enhanced computing power and up to 40% increased performance per watt compared to designs based on the 2nd generation Intel Core processors. Kontron's new embedded computing platforms enable OEMs to build applications with increased processing density and I/O bandwidth within tight thermal envelopes. This also meets and exceeds the requirement for improved size, weight and power (SWaP) of embedded designs and enables designers to utilize the power of the latest quad-core Intel processors for the first time on small form factors such as COM Express, AdvancedMC and 3U VPX. Additionally, improved Intel Advanced Vector Extensions (AVX) floating point instruction set for signal processing and SSE instruction sets provide developers the tools to use the increased floating point performance for high performance embedded computing applications in markets such as military, avionics and medical.

Further advancements include the integrated Intel HD Graphics 4000 that features over 16 execution units which is 30% more than the 2nd generation Intel Core processors provide, and offers, in addition to VGA and LVDS, native support of three independent digital display interfaces, each of which can be configured for DisplayPort (DP), HDMI or DVI displays for sophisticated applications found in markets such as medical, infotainment and industrial automation. A high performance MPEG-2 hardware decoding unit allows for decoding of multiple high resolution full HD videos in parallel. OEMs and designers benefit from up to twice the HD media and up to 60% 3-D graphics performance for an improved user experience and stunning visuals. With support for Intel Flexible Display Interface (FDI), DirectX 11, OpenGL 3.1 and OpenCL 1.1 developers can now use the latest APIs to accelerate the design of their applications. Kontron's platforms also support up to 16GBytes of dual channel DDR3 memory, multiple Gigabit Ethernet, SATA and the latest high-throughput interfaces such as PCI Express 3.0 and USB 3.0 for high-bandwidth applications. The AdvancedMC processor module offering this high bandwidth is ideal for MicroTCA and AdvancedTCA based telecommunications applications such as Long Term Evolution (LTE) or LTE-Advanced, wireless base stations, test systems for wire line and wireless network automation, and security applications.

"The outstanding 3rd generation Intel Core processors offer an unprecedented combination of performance gains and power efficiency within a small footprint," Norbert Hauser, Executive Vice President Marketing at Kontron explained. "Our objective is to get the cutting-edge high performance technology building blocks into our customers hands early so that they can utilize the benefits sooner in their solutions and get to market quickly with their complete applications. Our active involvement with Intel helps us to ensure our customers' minimized time-to-market. And with our upcoming system level solutions such as industrial rack mount servers and HMIs as well as integrated CompactPCI and VPX system platforms, our customers will benefit from reduced R&D costs."

In addition to standards based boards and modules, Kontron offers extensive custom design and manufacturing services at the board and system levels, to individually tailor platforms based on the 3rd generation Intel Core processors to specific application requirements. Kontron's service portfolio also includes a wide range of software offerings such as standard OS and hypervisor implementations as well as migration support including validation and verification. The overall goal of these value adding services is to deliver application-ready platforms to customers, thus allowing them to focus on their core competencies and save valuable resources.

For the latest information on Kontron's new and upcoming products based on the 3rd generation Intel Core processor please visit: www.kontron.com/3rd-gen-intel-core

About Kontron

Kontron is a global leader in embedded computing technology. With more than 40% of its employees in Research and Development, Kontron creates many of the standards that drive the world's embedded computing platforms. Kontron's product longevity, local engineering and support, and value-added services, helps create a sustainable and viable embedded solution for OEMs and system integrators. Kontron works closely with its customers on their embedded application-ready platforms and custom solutions, enabling them to focus on their core competencies. The result is an accelerated time-to-market, reduced total-cost-of-ownership and an improved overall application with leading-edge, highly-reliable embedded technology.

Kontron is listed on the German TecDAX stock exchange under the symbol "KBC". For more information, please visit: www.kontron.com/

PR Online: www.kontron.com/about-kontron/news-events/kontron+brings+benefits+of+quadcore+3rd+generation+intel+coreandtrade+i7+processor+technology+to+the+embedded+space.5848.html

EMEA

Norbert Hauser

Kontron

Tel: +49 (8341) 803-0

norbert.hauser@kontron.com

Americas

Richard Pugnier

Kontron

Tel:+1 (858) 623-3006

richard.pugnier@us.kontron.com

APAC

Richard Pugnier

Kontron

Tel:+1 (858) 623-3006

richard.pugnier@us.kontron.com

All rights reserved.

Kontron is a trademark or registered trademark of Kontron AG.

Intel® and Intel® Core(TM) are trademarks of Intel® Corporation in the US and other countries.

PICMG®, CompactPCI®, AdvancedMC(TM) and COM Express® are trademarks of the PCI Industrial Computers Manufacturers Group.

All other brand or product names are trademarks or registered trademarks or copyrights by their respective owners and are recognized.

All data is for information purposes only and not guaranteed for legal purposes. Subject to change without notice. Information in this press release has been carefully checked and is believed to be accurate; however, no responsibility is assumed for inaccuracies.