Kontron Achieves International Railway Industry Standard (IRIS) Certification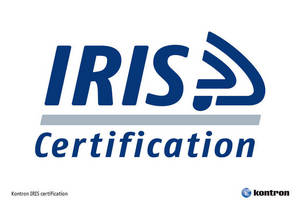 Kontron fulfills the special demands for reliability and lifecycle management of the railway industry

Eching, Germany - Kontron announced that it has achieved the IRIS (International Railway Industry Standard) Revision 02 certification, a compliance developed by the independent association of European railway industries UNIFE (Union des Industries Ferroviaires Européennes). The IRIS certification attests that Kontron complies with international unified quality standards and fulfills the highest demands for reliability and lifecycle management of the railway industry.

Kontron has received its IRIS certification for the activity of design, development and manufacturing of embedded computer boards and systems for real-time applications. The scope of certification includes propulsion and on board vehicle control as well as passenger information systems, communication systems and single railway components. Customers who integrate Kontron products thus have now also the official certification of the UNIFE that they partner with a high quality and reliable supplier.

"The IRIS certification of our facility in Toulon is a major milestone in our business strategy on the railway market. It gives credit to Kontron's commitment to apply highest quality standards of the railway market," explains Norbert Hauser, Executive Vice President Marketing at Kontron. "Our customers can directly use our solutions to improve the safety, cost- effectiveness and quality of their railway appliances without undergoing additional qualifications. By leveraging the synergies in obsolescence management for extended long lifecycle applications in transportation and military applications, we can provide exceptional long term supply service at a reasonable cost. So when it comes to embedded computing in railway, Kontron serves as the single source for all our customers' demands."

Kontron's history in the Transportation market

Kontron has a solid and long-term experience in developing and manufacturing real-time embedded computers for the railway market. The company has been involved in many high-profile embedded transportation projects including interlocking and safety critical installations. Kontron's broad product range of Commercial-Off-The-Shelf (COTS) platforms combined with its custom design capabilities and software services are successfully used to satisfy individual customer requirements effectively with focus on reducing time-to-market.

Kontron works with selected partners to ensure that standards (IRIS, ISO9001, EN50155 etc.) are strictly adhered to and organizes regular audit checks to secure comprehensively the quality of all products. Kontron offers its railway customers worldwide presence and experience and provides in-depth knowledge of local and international standards and requirements and thus ensures validated solutions. The certified design, development and manufacturing through a single source guarantee the highest quality, minimize design risk and reduce total cost of ownership.

For more information on Kontron's solutions for transportation, please visit: www.kontron.com/industries/transportation/

About Kontron

Kontron is a global leader in embedded computing technology. With more than 40% of its employees in research and development, Kontron creates many of the standards that drive the world's embedded computing platforms. Kontron's product longevity, local engineering and support, and value-added services, helps create a sustainable and viable embedded solution for OEMs and system integrators. Kontron works closely with its customers on their embedded application-ready platforms and custom solutions, enabling them to focus on their core competencies. The result is an accelerated time-to-market, reduced total-cost-of-ownership and an improved overall application with leading-edge, highly-reliable embedded technology.

Kontron is listed on the German TecDAX stock exchange under the symbol "KBC". For more information, please visit: www.kontron.com/

Media Contacts

EMEA

Norbert Hauser

Kontron

Tel: +49 (8341) 803-0

norbert.hauser@kontron.com

Americas

Richard Pugnier

Kontron

Tel:+1 (858) 623-3006

richard.pugnier@us.kontron.com

APAC

Richard Pugnier

Kontron

Tel:+1 (858) 623-3006

richard.pugnier@us.kontron.com

All rights reserved. Kontron is a trademark or registered trademark of Kontron AG. All other brand or product names are trademarks or registered trademarks or copyrights by their respective owners and are recognized. All data is for information purposes only and not guaranteed for legal purposes. Subject to change without notice.


More from Software