Konica Minolta Leaves a Mark in Pamex 2013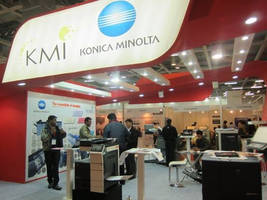 ~Displays state of the art products for partners and customers~



New Delhi – Konica Minolta Business Solutions India Pvt. Ltd., a leader in digital printing, recently participated in Pamex 2013 - the 9th International Exhibition on Printing and Allied Machinery in Greater Noida's India Expo Centre and Mart from 14th-17th November 2013.



Driven by the desire to provide their customers with viable printing solutions, cutting edge technology, eco-friendly production techniques and systems, Konica Minolta Business Solutions showcased their products in a big way and defined their niche as the leading manufacturer of futuristic printing products.



Organised in association with their partners - Monotech Systems Ltd, Technova Imaging Systems, HCL Infosystem Ltd. and KMI Business Technologies Pvt Ltd, the printing firm displayed their state of the art production printing systems inclusive of bizhub PRESS C8000, bizhub PRESS C6000, bizhub PRESS C70 hc and bizhub PRESS 1052.



Pamex 2013, organised by All India Federation of Master Printers in conjunction with TAFCON, is the premier international exhibition for printing and allied machinery in Asia. The event showcased the cutting edge technologies offered by the leading solution providers from all categories ranging from pre-printing to post-printing and everything in between. It provided an outstanding opportunity to the exhibitors to understand the on-going trends in the printing world and interact with all the technology providers and buyers present during the mega event.



While the event proved to be an overall success, Konica Minolta managed to earn some extra mileage by interacting with focussed customers and creating extensive brand coverage leading to the initiation of certain plans currently in the pipeline. Besides this, Mr. HisatadaYokomizo - delegate of Konica Minolta Inc., Japan, also visited the event interacted with customers to understand Indian customer needs and expectations.



Speaking on this occasion, Mr Tadhahiko Sumitani, MD Konica Minolta Business Solutions Pvt Ltd. stated, "We are extremely glad to have participated in Pamex 2013, the mega event for printing in Asia. Konica Minolta has always strived to come out with superior quality products after evaluating varying needs of customers.  We believe in innovation and change with evolving technology. The demonstration of our products during the exhibition not only helped us get visibility amongst our consumers and partners, but the positive feedback acquired by our management during the display has further bolstered our plans to keep working hard for all the coming years. We think this event has also given us an insight into the current scenario of the printing industry which will help us strategise our plan of action for future."



Mr V. Balakrishnan, Executive General Manager- Marketing, Konica Minolta Business Solutions Pvt. Ltd. commented, "The specificity of this event to deal exclusively with the who's who of the printing industry helps the companies to articulate their value proposition to the stakeholders. We were able to support our partners in positioning & promoting Konica Minolta solutions to the visitors. We believe this exhibition allow us to spread awareness regarding our best printing products and excellent after sale services. We thank to our customers for making us the No. 1 supplier of digital printing solutions and look forward to serving them in the future too."



About Konica Minolta:

Konica Minolta Business Solutions is a leader in advanced imaging and networking technologies from the desktop to the print shop. Konica Minolta is the global developer, manufacturer of multi-functional peripherals (MFPs), printers, equipment for production print systems and graphic arts, equipment for healthcare systems, measuring instruments for industrial and healthcare applications, inkjet print heads and textile printers for industrial use, and related consumables and solution services. It is also engaged in the development, manufacturing and sale of electronic materials (including TAC films), lighting source panels, functional films (including heat insulation films), and optical products (including lens units). To know more please visit http://www.konicaminolta.in/.



More from Cleaning Products & Equipment