Konecranes to Supply One of the World's Largest Goliath Gantry Cranes to Brazilian Shipyard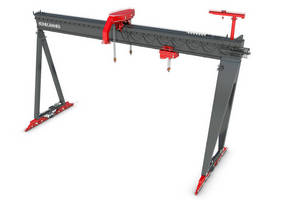 In March 2013 Konecranes received a major order for a Goliath gantry crane from Brazilian shipyard Estaleiro Enseada do Paraguaçu ("EEP"). The high-tech Goliath crane, which will be one of the largest gantry cranes in the world, will be taken into operation in July 2014. This order continues the series of Konecranes Goliath gantry cranes being delivered to Brazil, where several greenfield shipyards are being built. The parties have agreed not to disclose the value of the order.



The crane will be equipped with the latest in crane technology. With a lifting capacity of 1,800 tons, a lifting height of 114 meters, and crane structures that will reach a height of 150 meters, the crane will be a landmark in the area.



"We made a commitment some time ago to support EEP in their search for an optimal lifting solution for heavy assembly cranes. We are now very happy to have signed the agreement for the delivery of the crane," says Jussi Rautiainen, Konecranes' General Manager, Shipyard Cranes. "Supplying the key equipment to the shipyard enables us to integrate other lifting equipment and services around it."



The crane is designed and built to operate independently in lifting heavy dry dock assemblies. However, some design features were specially implemented to ensure optimal lifting also in the future and should the shipyard increase its capacity, the crane can be used together with another crane.



The new EEP shipyard has been under construction since 2012. The shipyard will begin operations in 2014 with a focus on building and assembling offshore units such as platforms, specialized ships and drill rigs.



Further information:

Press:

Jussi Rautiainen

General Manager

Shipyard cranes

Konecranes

E-mail: jussi.rautiainen@konecranes.com

phone +358 20 427 2616



Konecranes is a world-leading group of Lifting Businesses™, serving a broad range of customers, including manufacturing and process industries, shipyards, ports and terminals. Konecranes provides productivity-enhancing lifting solutions as well as services for lifting equipment and machine tools of all makes. In 2012, Group sales totaled EUR 2,170 million. The Group has 12,100 employees at 626 locations in 48 countries. Konecranes is listed on the NASDAQ OMX Helsinki (symbol: KCR1V).



More from Electrical Equipment & Systems