Kollmorgen will Showcase The Latest Motion Innovations and Hygienic Machine Designed for the Meat, Poultry and Feed Industries at IPPE 2019
Press Release Summary: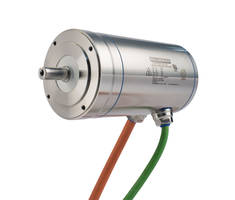 AKMH™ Hygienic Servo motor is ruggedly designed and made with corrosion-resistant stainless steel
Designed for splash zones and food contact with IP69K rating
Risk of food recall is reduced by the AKMH hygienic design
---
Original Press Release:
Kollmorgen to Exhibit Next-Generation Motion Technology and Hygienic Machine Design Innovations at IPPE 2019
Radford, VA – January 23, 2019 – Kollmorgen will feature the latest motion innovations designed for the meat, poultry, and feed industries at Booth B7820 at the International Production & Processing Expo (IPPE), February 12 – 14, 2019, at the Georgia World Congress Center in Atlanta.
Throughout the show, Kollmorgen will exhibit:
AKMH™  Hygienic Servo Motor: The stainless steel AKMH is designed for splash zones and food contact. Its rugged design, corrosion-resistant stainless steel, and IP69K rating withstand the most rigorous washdown environments. OEMs benefit from reduced cleaning time and increased uptime. Most importantly, the risk of food recall is significantly reduced by the AKMH superior hygienic design. Visitors to the booth can also see a demo of an AKMHretrofit.
AKM® 2G Servo Motor: Kollmorgen's next-generation, high-performance synchronous servo motor. With increased power density and improved torque/speed ratio, OEMs can get up to 30% more performance out of equivalent size motor or achieve the same performance with a smaller motor. With six frame sizes with up to five stack lengths and performance rates 0.3 and 10kW, and selectable options such as feedback, mounting, and performance capabilities, the AKM2G can easily be dropped into existing designs. AKM2G motors are optimized for use with the Kollmorgen AKD® Servo Drive and the AKD2G family of next-generation servo drives and are also capable of providing all their design benefits in conjunction with the customer's choice of servo drives.
AKM® Synchronous Servo Motor: Industry-leading power density, combined with more than 500,000 standard products, practically unlimited co-engineered modifications, and plug-and-play motor recognition make the AKM an easy choice for a wide variety of design requirements.
AKM Washdown and Food Grade Servo Motor: This motor incorporates Kollmorgen's AKM electromagnetics within a housing protected by an FDA-approved 2-K coating and IP67-rated seal configuration for applications with strict hygiene regulations. No additional cover or special protection is required for the motor casing. Stainless steel hardware is used on all precision interfaces (motor shaft, screws and connectors). Available in a wide range of standard lengths, windings, feedback systems, and connection technologies.
Visitors are also invited to pick up a copy of Kollmorgen's informative white paper Scientifically Hygienic: Improving Machine Design Through Improved Component Design.
Kollmorgen experts will be available throughout the show at booth #B7820 to answer questions and discuss applications. Advance meetings can be scheduled by contacting Doug Pike, Eastern Sales Manager, at doug.pike@kollmorgen.com.
About Kollmorgen
Since its founding in 1916, Kollmorgen's innovative solutions have brought big ideas to life, kept the world safer, and improved peoples' lives. Today, its world-class knowledge of motion systems and components, automated guided vehicle navigation software, industry-leading quality, and deep expertise in linking and integrating standard and custom products continually delivers breakthrough motion solutions that are unmatched in performance, reliability, and ease-of-use. This gives machine builders around the world an irrefutable marketplace advantage and provides their customers with ultimate peace-of-mind.
For more information visit www.kollmorgen.com, email support@kollmorgen.com, or call 540-633-3545.
Company Contact:
Kollmorgen
540.633.3688
Agent Contact:
Longren & Parks
952.913.3065
More from Fluid & Gas Flow Equipment