Servo Motor Controllers and Drives
Kollmorgen to Demo New AKD®2G Servo Drive & AKM®2G Servo Motor System Solution at PACK EXPO 2018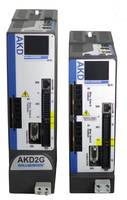 Visit Booth N-5251 to see the next generation servo system, mobile & robotic arms, frameless gearmotors, and AKMHTM hygienic motor solution in action
RADFORD, VA – September 27, 2018 – Kollmorgen will be exhibiting at Pack Expo, October 14-17, 2018, in Chicago, IL. Attendees are invited to visit booth N-5251 for exciting, new-to-the-show demos of the company's industry-leading motion technology, including the new AKD®2G servo drive and AKM®2G servo motor system solution, hygienic motor solutions for packaging applications, and state-of-the-art robotics.
Demo Preview:
AKD2G Servo Drive: The dual-axis AKD2G is one of the most power-dense industrial servo drives on the market. It substantially reduces mains wiring, fuses, and filtering to save significant panel space and cost. Highlights include: plug-and-play compatibility to Kollmorgen motors and Workbench interface, optimized hybrid connector, and speed – its multicore Compute Engine, Servo on a Chip, is far more powerful than other servo drives. The AKD2G's current loop update rate of 1.28µs accommodates changing load conditions immediately. Velocity and position loops updates are also market leading at 62.5µs and 125µs.
AKM2G Servo Motor: A configurable, high-performance synchronous servo motor with increased power density and improved torque/speed ratio so OEMs can get up to 30% more performance out of an equivalent size motor or achieve the same performance with a smaller motor. With six frame sizes with up to five stack lengths and performance rates 0.3 and 10kW, and selectable options such as feedback, mounting, and performance capabilities, the AMK2G can easily be dropped into existing designs.
Mobile and Robotic Arm Solutions (MARS): An interactive demo of a robotic arm enabled by Kollmorgen Automated Guided Vehicle (AGV) software, hardware, and heavily integrated frameless motion technology. Experience the way Kollmorgen is merging the world of modern robotics and AGVs to develop smarter, more dynamic, and versatile robots.
Frameless Gearmotor: Learn how Kollmorgen's award-winning TBMTM frameless motors are optimized for fit and performance with industry standard strain wave gearing and industry-leading torque density to enable smaller, lighter, faster robots.
AKMHTM Hygienic Motor: The superior hygienic design stands up to the most challenging washdown environments with an IP69K certification and ultra-durable, food grade stainless steel. The AKMH reduces cleaning time and the risk of food recalls by eliminating the cracks and crevices where contamination can occur. Learn how this exceptional hygienic motor can increase OEE at packaging and processing facilities while increasing food safety and productivity.
Kollmorgen experts will be available throughout the show at Booth N-5251. Attendees who would like to schedule time in advance to discuss specific application needs may contact Shawn Collins at shawn.collins@Kollmorgen.com.
ABOUT KOLLMORGEN
Since its founding in 1916, Kollmorgen's innovative solutions have brought big ideas to life, kept the world safer, and improved peoples' lives. Today, its world-class knowledge of motion systems and components, automated guided vehicle navigation software, industry-leading quality, and deep expertise in linking and integrating standard and custom products continually delivers breakthrough motion solutions that are unmatched in performance, reliability, and ease-of-use. This gives machine builders around the world an irrefutable marketplace advantage and provides their customers with ultimate peace-of-mind.
For more information visit www.kollmorgen.com, email support@kollmorgen.com, or call 1-540-633-3545.
Company Contact:
Kollmorgen
540.633.3688
Agency Contact:
Longren & Parks952.913.3065