Kolbe's Pivot Door Expands Entrance Door Capabilities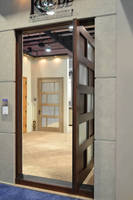 Kolbe's pivot door at AIAWausau, Wisconsin - During the AIA National Convention in booth #2429, Kolbe will highlight a one-of-a-kind, oversized, pivoting entrance.



"Distinctive homes deserve a grand entrance. No other feature on a home makes such a powerful statement and lasting impression as the front entry," says Cindy Bremer, Kolbe's vice president of marketing. "With Kolbe, each entry is built-to-order, so it can be individualized with wide and tall sizes, unusual shapes, rare wood species, bright and bold finishes, finely crafted glass and many other selections."



Recognizing the trend in the residential housing market toward expansive entries, Kolbe's AIA display features a custom, Mahogany wood pivot door with a Rockwood® GeoMetek locking pull handle in Satin Stainless finish and energy efficient, tempered LoE2-270 reeded glass. Bremer elaborates, "This completely one-of-a-kind door shows the depth of Kolbe's capabilities. At over 6 feet wide by 9 feet tall, the specialized pivoting hardware is nearly invisible, creating a sleek appearance, while allowing easy operation in spite of its large size."



Kolbe's pivot door at AIABremer adds, "At Kolbe, we pride ourselves on addressing the needs of architects, custom builders and homeowners alike. Our pivot door capabilities are a reflection of our constant innovation and drive to provide windows and doors that enhance living spaces and push the boundaries of what is possible in custom homes."



For more inspirational ideas and options for custom entry door products from Kolbe, please visit http://www.kolbe-kolbe.com.



What began in 1946 as a two-brother team has grown into an internationally respected manufacturing company. Kolbe Windows Doors is one of the nation's leading manufacturers of windows and doors for residential and commercial markets. After 70 years, Kolbe products are best known for superior quality, custom craftsmanship, attention to detail, as well as innovative and unique designs.





More from Paints & Coatings