Koch Knight Announces Solutions for Wastewater RTOs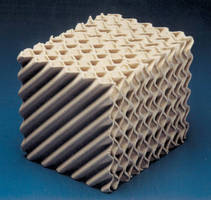 High-quality structured packing reduces clogging and downtime

CANTON, Ohio., a leading innovator in corrosion proof materials and environmental heat transfer equipment, announces its range of solutions for regenerative thermal oxidizers (RTOs) in municipal wastewater treatment.

Coupled with bio-solids driers, RTOs are increasingly used in wastewater facilities to abate volatile organic compounds (VOCs) and odor. RTOs operate at their greatest efficiency when outfitted with high-quality packing, the material in the RTO that maintains optimal temperature for the oxidation process. Many RTOs, however, are installed with monolith or saddle packing, both of which quickly become clogged with siloxane, forcing costly shutdowns and frequent washouts. Koch Knight's patented FLEXERAMIC® ceramic structured packing is engineered to resist siloxane clogging and maximize RTO uptime.

FLEXERAMIC structured packing is composed of corrugated ceramic sheets that are vertically aligned in the RTO bed, eliminating any horizontal surfaces that may create resistance to vapor flow. This geometric construction dramatically reduces the channeling of vapor and provides for more efficient contact of hot gases with the ceramic surface. This increased efficiency offers reductions in energy usage and opportunities to increase flow through the RTO bed. The lack of horizontal surfaces in FLEXERAMIC also minimizes the packing's ability to trap particulates such as silica powder from the incoming air, and decreases the pressure drop across the RTO bed.

After replacing existing random packed RTO beds with FLEXERAMIC structured packing, RTO users in wastewater applications will notice a decrease in pressure drop of at least 20 percent or more and improved efficiency, resulting in significantly lower energy costs for the RTO operation. Koch Knight offers extensive engineering expertise and experience in RTO packing installations and retrofits.

Also available for wastewater applications, Koch Knight offers two unique plastic random packings: INTALOX® SNOWFLAKE® high performance random packing and Super INTALOX® Saddle random packing. Ideal for wastewater treatment and drinking water preparation, plastic random packings provide maximum capacity and low pressure drop in corrosive applications with low to moderate operating temperature such as absorption and scrubbing.

About Koch Knight LLC

Koch Knight LLC has been is a leading innovator in corrosion proof materials and environmental heat transfer equipment. A manufacturer and installer of acid-proof materials, equipment and environmental media worldwide, Koch Knight is a true one-stop shop for the most demanding corrosion resistant, mass transfer, and heat transfer requirements. The company is a corrosion resistance leader in non-metallic products, and engineering and construction services, which create value in its customers' corrosive process and environmental applications.

Based in East Canton, Ohio, Koch Knight LLC is a Koch Chemical Technology Group, LLC company. For more information, visit www.kochknight.com, call 1-330-488-1651 or write to info@kochknight.com.

More from Computer Hardware & Peripherals