Knife Advance System for RVDFs improves filtration, lowers energy.
Press Release Summary: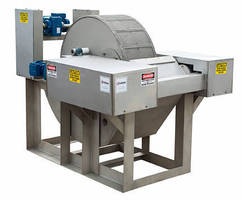 Encoded Digital Guidance (EDG)-trac™ Knife Advance System for Pre-Coat Rotary Vacuum Drum Filters (RVDFs) removes solids content to as little as 1.4 thousandths of inch per revolution at drum speed as low as 0.2 rpm. This extends pre-coat life by not cutting away clean pre-coat while maintaining acceptable solids separation and improving liquid throughput. Features include single-motor VFD, fully automated PLC, and automatic high-speed retract mode.
---
Original Press Release:

New EDG-trac(TM) Knife Advance System from TriStar for Rotary Vacuum Drum Filters Improves Filtration Performance and Lowers Energy Costs



TriStar, LTD., Buffalo, New York, announces the introduction of its new EDG-trac Knife Advance System for Pre-Coat Rotary Vacuum Drum Filters (RVDF). The Encoded Digital Guidance (EDG) system is designed to improve filtration performance and reduce energy costs. TriStar states that it will rebuild or remanufacture existing RVDF units at its facility or retrofit the EDG-trac system to an RVDF at a customer's plant.



An independent field test at a leading chemical manufacturer in Buffalo, NY showed that the EDG-trac system increased filtration throughput by 700% on average and reduced energy consumption by 87% on a per-gallon filtered basis. The study was recently conducted by the New York State Pollution Prevention Institute (NYSP2I) at the Rochester Institute of Technology (RIT). In the study (consisting of two batch tests) the performance of an existing RVDF was measured. The entire filter was then replaced with a remanufactured RVDF and EDG-trac system from TriStar, and the new filter was evaluated under the same process conditions.



Ideal solids penetration into a pre-coat filter is 2 to 5 thousandths of an inch. The EDG-trac system removes as little as 1.4 thousandths of an inch per revolution at a drum speed as low as 0.2 RPM. This extends pre-coat life by not cutting away clean pre-coat while maintaining acceptable solids separation and improving liquid throughput, according to TriStar.



EDG-trac also features a highly efficient, single-motor VFD to reduce energy use and cost. A fully automated PLC controls the advance speed, retract speed, and drum speed, allowing precise control and providing valuable information to operators, the company states. An automatic high-speed retract mode reduces time between cycles and allows the filter to be recycled and put back online quickly.



TriStar says that the company can remanufacture an entire RVDF including EDG-trac at 60% to 70% the cost of a new filter in 8 to 10 weeks. It can also retrofit the EDG-trac system to any installed RVDF.



Established in 1985, TriStar LTD is a remanufacturer of filtration equipment including Rotary Vacuum Drum Filters, Belt Filters, Vacuum Belt Filters, and Filter Presses. In addition, TriStar manufactures a proprietary line of Hot Water Sets.



TriStar also fabricates a wide range of process equipment including pump skids, heat exchanger skids, pre-coat systems, frames, platforms, piping systems, and other custom projects. The company also provides welding services including piping, valve ends, equipment repair, sanitary piping, and stainless steel tubing.



For additional information, contact TriStar, LTD., 265 Mayville Avenue, Buffalo, NY 14217. Phone: 716-873-0081. Email: info@tristarltd.com. www.TriStarLTD.com.To download a PDF file of EDG-trac literature, EDG-trac case study, and the independent report, visit: http://www.tristarltd.com/news.html



For additional information about the New York State Pollution Prevention Institute at the Rochester Institute of Technology, please visit: http://www.NYSP2I.rit.edu



EDG-trac™ is a trademark of TriSTAR, LTD.



Please address reader service inquiries to:

Charles M. Harrigan III, Sales & Marketing Director, TriStar Ltd.

716-873-0081 • Email: charrigan@tristarltd.com



For electronic files or additional information, contact:

Kenneth A. Boos, Account Executive ,Harold Warner Advertising, Inc.

700 Parkside Ave.,  Buffalo NY 14216

Phone: 716-852-4410 • Fax: 716-852-4725 • Email:extra@haroldwarner.com

More from Fluid & Gas Flow Equipment