KNF Introduces NMP830 Gas Pump That Produces a Pressure of Up to 3.0 psig
Press Release Summary: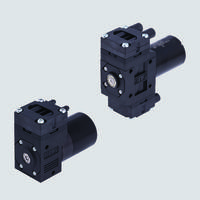 The NMP830 HP Gas Pump is designed for use in patient monitoring, wound and compression therapy, and respiratory care devices. The product is offered in a width of 31 mm and produces a free flow up to 5.5 L/min (single head) and 10 L/min (dual head). They are available with brushed and 2- or 4-wire brushless DC motors and produces vacuum down to 28.4 inHg.
---
Original Press Release:
KNF Launches New Compact High-Flow Gas Pump
Trenton, NJ, November 28, 2018 – KNF has introduced new micro gas pump NMP830 HP for OEM customers. This new diaphragm pump offers outstanding high flow, pressure, and suction performance in a compact size. It is ideal for medical therapy, monitoring, and reprographic applications.
The compact NMP830 HP measures just 31mm (1.25") in width. Yet it produces free flow up to 5.5 L/min with a single head design and to 10 L/min with a dual head. Furthermore, this pump produces best-in-class pressure of up to 3.0 bar g (43.5 psig) and vacuum down to 50 mbar absolute (28.4 inHg).
The new NMP830 HP is an extension of KNF's NMP series. This latest addition to the line offers a 33 – 44% increase in size-to-flow ratio compared to existing NMP850 and NMP830 models, respectively. Vacuum and pressure performance are also significantly improved at a comparatively smaller size and lower weight.
Thanks to its compact size, high performance, and quiet operation, the NMP 830 HP pump is particularly well-suited for use in patient monitoring, wound and compression therapy, and respiratory care devices. Additional applications that will benefit from the pump's features include environmental and security monitors, inkjet printing and color printers/plotters, lab equipment, fuel cell technology, and more.
Available with brushed and 2- or 4-wire brushless DC motors. Standard offerings include EPDM and PPS wetted components.
All KNF pumps are engineered for success by optimizing pump solutions to meet customer's specific requirements.
For more information, please visit www.knfusa.com/NMP830HP.
About KNF Neuberger
KNF Neuberger, Inc. is a leader in gas and liquid diaphragm pumps and systems for OEM, laboratory and process customers. Typical application tasks include liquid and gas transfer, chamber evacuation, liquid metering/dosing, washing, waste handling, recirculation, aspiration, vacuum roughing/backing, pneumatics, and degassing. Built upon a foundation of engineer-to-engineer collaboration, KNF combines technical expertise and manufacturing leadership to address application-specific challenges for an ever-growing list of markets that includes medical device and diagnostics, environmental/industrial hygiene, laboratory equipment, reprographics, security and defense, semiconductor, energy, various process industries, and more. KNF is committed to serving customers with industry-leading customer service, rigorous product life, and validation testing, and as a reliable and trusted technical resource. We strive to optimize not only our pumps, but to also assist our customers in optimizing their overall systems. In fact, more than 80% of our business involves customer-engineered solutions.
For more information, visit www.KNFusa.com.
PR Contact:
Anthony J. DeFazio
DeFazio Communications, LLC.
484-534-3306
tony@defaziocommunications.com
Related