Knauf Insulation Announces Formaldehyde-Free Verification for Pipe and Equipment Insulation Products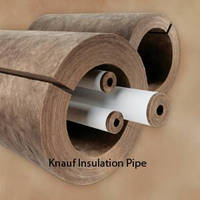 (Shelbyville, IN) - Satisfying the growing indoor air quality (IAQ) needs of the commercial and industrial marketplace, Knauf Insulation North America announces that products in their Pipe and Equipment Insulation line are now verified as formaldehyde-free through the GREENGUARD Environmental Institute. Knauf Insulation provides the only full line of formaldehyde-free insulation for the pipe and equipment market.

The verified products include Earthwool(TM) 1000° Pipe Insulation, Insulation Board, Friendly Feel® Duct Wrap, and Elevated Temperature products. Knauf Insulation is the first insulation company to independently certify and verify products within its pipe and equipment insulation line as formaldehyde-free through GREENGUARD.

"This is a unique step that goes beyond our certification to the GREENGUARD Children and SchoolsSM low emissions standard. With the increasing number of specifications for formaldehyde-free insulation, we wanted to have a credible third-party organization verify that our products exceed the strictest Formaldehyde-free testing," said Glenn Brower, director of technical marketing for Knauf Insulation.

From copper pipe and sheet metal ducts to industrial furnaces and tank storage, Knauf Insulation's full suite of pipe and equipment insulation products provides commercial and industrial facilities with proven insulation solutions delivering energy efficiency and operational cost-savings. At the same time, the products help contribute to superior indoor air quality.

"We are proud to be an industry leader in sustainability and also in environmental air quality standards. This has been important to us since 2001, when GREENGUARD was first launched and Knauf Insulation became the first insulation manufacturer to meet low emissions requirements and achieve certification," Brower said.

The Knauf Insulation Pipe and Equipment Insulation products that have received verification feature the patented ECOSE® technology, a bio-based binder made from rapidly-renewable materials doing away with chemicals and gases such as phenol, formaldehyde, acrylics or artificial colors that have been traditionally used in fiber glass commercial and industrial insulation.

"We encourage engineers, mechanical contractors and building owners to seek out materials that are independently verified as being formaldehyde-free. We understand that IAQ is critically important to health and productivity, and stand behind the commitment that our full-line GREENGUARD certification provides," said Brower.

About Knauf Insulation

Knauf Insulation is a leading global manufacturer of thermal and acoustical fiber glass insulations for residential, commercial, industrial, OEM and metal building applications. It's Knauf Insulation's number one priority to provide products and services that conserve energy and preserve natural resources for a sustainable future. The company's insulation products have an inherent impact on energy consumption; once in use they save hundreds of times more energy than is required to make them. Knauf Insulation has met the stringent chemical emissions standards to achieve the GREENGUARD Children & Schools Certification and is verified to be formaldehyde free. For more information about Knauf Insulation sales and products, visit www.knaufinsulation.us, write to Knauf Insulation, One Knauf Drive, Shelbyville, IN 46176 or call 800-825-4434 ext. 8212.

About GREENGUARD

The GREENGUARD Environmental Institute aims to protect human health and improve indoor air quality by reducing people's exposure to chemicals and other pollutants. As an ISO-IEC Guide 65:1996 accredited, third-party organization, the GREENGUARD Environmental Institute certifies products and materials for low chemical emissions and provides a resource for choosing healthier products and materials for indoor environments. All certified products must meet stringent chemical emissions standards based on established criteria from key public health agencies. GREENGUARD Indoor Air Quality Certification is broadly recognized and accepted by sustainable building programs and building codes worldwide. For more information and a complete listing of certified products, visit www.greenguard.org.


More from Fluid & Gas Flow Equipment