KLH Industries, Inc. Preparing for a Positive Future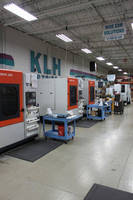 Investing in the company's future has always been the highest priority for Ken Heins, President and CEO of KLH Industries, Inc. When the economy took a hit, he was rigorously thinking of how to improve current methods, increase throughput, offer additional services, increase quality and, in the end, deliver a better part to their customer. Through strong customer support and loyalty, hard work, employee dedication and numerous investments, KLH is doing just that.

During some of manufacturing's most challenging times, KLH found themselves, like many other precision machine shops, in a dilemma. Rather than doing nothing, they used this time to maximize potential and invest in the company's future, ensuring that when the economy turned around they were positioned correctly for prosperous growth.

KLH not only survived the economic downturn but also remained fully operational and profitable. Sales did drop, but KLH had strategically positioned themselves to increase manufacturing output, train and maintain highly skilled personnel and improve and invest in new equipment and higher levels of key certifications.

Equipment additions
Their first addition was to their dimensional inspection department with the acquisition of a Brown and Sharpe non-contact vision measuring system. This, paired with their Brown and Sharpe CMM, would aid in the company's inspection capabilities as it moved further into partnering with OEM aerospace companies. The department also purchased a second Brown and Sharpe CMM in July of 2010 to ensure timely throughput while avoiding bottlenecks between in-process and final inspection procedures.

KLH's multi-axis CNC department also saw its share of additions. In order to keep up with customer demand, KLH invested in a Doosan Puma 480L to tackle some of the larger CNC turning jobs. The Doosan lathe can turn parts upwards of 24" in diameter by 80" in length with 1500 RPMs, making it a great fit for exotic materials such as Inconel, Hastelloy and titanium.

The next addition was a supplementary Hurco VMX-42 that allows for additional throughput in the CNC department. The new Hurco has a Windows-based controller for better networking and file management, as well as a greater degree of surface quality finish control.

Efficiency Improvements
Over the next several months, KLH also embarked on a company wide, Lean Manufacturing training course. With the help of a significant company investment and a partial state grant, every KLH employee received 80 hours of classroom training to assist in future company growth.

KLH's waterjet cutting department increased efficiency by installing a closed-looped water filtration system to lower water consumption. KLH now recycles over 95% of consumed water, loosing only a couple of percent to evaporation. The addition of this system is expected to double the life of the department's consumables and has reduced water consumption by as much as 2,300 gallons per day.

Another tool that KLH utilizes to maximize efficiency around the shop is a customized "Andon" light system. In each of KLH's three manufacturing bays, hangs a large TV screen with icons representing all of their CNC equipment. When the icon is green, the machine is running and logging runtime. Data is used to better estimate scheduling, cycle times and preventative maintenance measures. If the icon is red, then the machine is not running, maybe in need of a new program or to change out a tool. Using this system, anyone at KLH, even office personnel, can pull the Andon system up on his or her computer monitor and see what machines are running.

In addition, the system is even tied into the phone system. If a machine is running "lights out" and requires attention, the system automatically calls or messages the operator's cell phone, notifying them that the machine requires attention.

Key Certifications
A year and a half of upgrades culminated in July 2010, when KLH became AS9100 certified. Situated with highly skilled staff, modern equipment and a dedication to excellence, KLH has been proving itself in the aerospace industry ever since. KLH has partnered with some of the nations top aerospace, defense and energy leaders, focusing on strong customer relationships and forward thinking initiatives that have helped aid in space missions, commercial aircraft, undersea exploration and efficiency of our men and women of the Armed Services.

From a Quality Management System standpoint, KLH provides all of the documentation necessary to satisfy requirements such as first article inspection reports, customer-approved control plans and certificate of conformances. The certification itself does not guarantee quality parts. The quality is guaranteed through almost 30 years of forward thinking, highly skilled workforce that lives and breathes precision machining.

KLH is currently seeking NADCAP certification for non-conventional machining (EDM) this year in order to better situated them amongst the premier precision machining service providers in the country.

In 1987, KLH started out as a Wire EDM shop, and has since become a leader in Wire EDM technology and ability. In recent years, however, the need for more advanced traceability requirements and customer flow down will make this certification a worthwhile investment. "Becoming NADCAP accredited is our next step in our commitment in providing the highest quality parts available," says their EDM department manager. "We limit risk in our manufacturing processes, ensuring that our customer's know that we are the go-to company when they require life and flight critical parts and components."

Flexibility
Remaining flexible is very important in manufacturing. Customer's needs change daily and you must remain flexible in dealing with these challenges if you want to remain successful. Adaptability helps machine shops become more efficient and able to overcome objectives.

"We're very good at putting out fires," one project manager states. "Some of our customers come to us because they can rely on us when they are in a pinch or behind on a delivery."

Communication
While preparing for future growth, a machine shop cannot forget about communication. How you communicate both internally as well as with your customers should be a high priority in any shop.

One piece of communication KLH uses for their customers is an automatic email response system during the order acknowledgement and shipment stages of an order. After careful review and acceptance of an order, every one of KLH's customers receive an email confirming receipt of the purchase order, delivery dates and any additional data points the customers would require to ensure their parts are in the right hands. After the parts have been manufactured, KLH's shipping department then administers an automatic email, once the job is invoiced and scheduled for shipment, including the parts tracking number, parts names and numbers. "Our customers tell us that they find this feature very useful" states KLH's shipping department. "It helps alleviate any questions as to what parts were in the shipment or when it is expected to get there."

Internal communication is also a key part of future growth. Currently, KLH utilizes an ERP system with custom built modules that allows for adequate CRM capabilities and shared communication logs globally throughout the company. As their customer base grows and customer's needs become more diverse, KLH has noticed additional room for improvement in this area. KLH is currently implementing a new company wide ERP system to allow for a much wider range of capabilities both internally and externally. This will drastically facilitate improvement to process flow, scheduling, supplier diversity, customer relationship management, billing and shop effectiveness.

Continuous Improvement
A shop planning for future prosperity can never just settle for what is working now. You must continuously improve upon current methods. Many companies's focus on emulating "Best Practices." While that is not a bad goal to reach, what happens when you get there? You must aim for better than best practices so that you do no become complacent with your manufacturing capabilities and procedures. Many of KLH's customers choose them because of their intellect and ability to think outside the box while coming up with the best plan to manufacture their customer's parts.

Future Preparations
The manufacturing industry is constantly growing and changing. In order to succeed you have to stay abreast of current happenings within the industry and the markets in which you serve. It is important to talk to your customers as much as possible and determine what is important to them and what they value in a supplier. More times than not, your customers are experiencing challenging times as well and rely on companies like yours to assist in maximizing efficiency, price and quality.

More from Machinery & Machining Tools