Klein Tools Wins Tools in Action's Best Multimeter of 2013 Award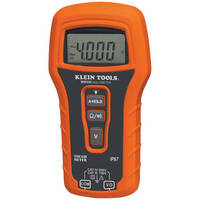 Lincolnshire, IL – Klein Tools, (http://www.kleintools.com) for professionals since 1857, announced their MM500 Auto Ranging Multimeter was named "Multimeter of the Year" by Tools in Action (http://www.toolsinaction.com) editors and the pros that work with them to evaluate products.



"The MM500 Auto Ranging Meter from Klein is one of the best tools of the year that we have reviewed," stated Dan Maxey, senior editor and co-founder of Tools in Action. "It is easy to use and tough. Basically it's a great all around voltage multimeter for anyone."



The MM500 Auto Ranging Multimeter measures up to 750 volts AC and DC, resistance and continuity. Other product features include:



• User-friendly three button functionality

• Automatic detection of AC or DC voltage

• Visual and audible continuity indicators

• Self-storing leads perfectly spaced for quick measurements of tamperproof outlets

• Auto-Hold to automatically locks readings on the display when measuring in hard to access areas

• 4000 count LCD display

• Battery door with captive screws to eliminate lost fasteners

• IP67 dust and waterproof rating

• 3 m/10 ft. drop protection

• CAT IV (600V) safety rating



"We wanted to create a user-friendly yet tough multimeter that can handle the rigors of the job site environment," states Bruce Kuhn, product manager at Klein Tools. "The MM500 Auto-Ranging Multimeter encompasses numerous features, a well-thought out design, an IP67 durability rating and a CAT IV safety rating, all for under $60."



To view the durability tests or for more information regarding Klein Tools "Tougher Than" meters and test and measurement line of products visit: http://www.kleintools.com/tougherthan.



Klein is a registered trademark of Klein Tools, Inc.



Toolsinaction.com is a leading online tool publication.  The Tools in Action Awards started in 2010 and are one of the most prestigious tool awards on the web.  The judging panel consists of editors from Toolsinaction.com, select industry professionals and tradesmen.  For more information, visit www.toolsinaction.com.



Since 1857 Klein Tools, a family-owned and operated company, has been designing, developing and manufacturing premium-quality, professional-grade hand tools. The majority of Klein tools are manufactured in plants throughout the United States and are the number one choice among professional electricians and other tradespeople. For more information, visit www.kleintools.com.