Klein Celebrates 150 Years with Commemorative Journeyman(TM) Hand Tools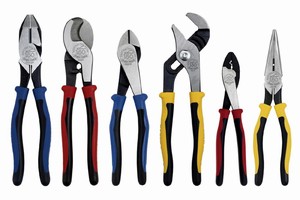 LINCOLNSHIRE, ILL. - April 2007 - In honor of its 150th anniversary, Klein Tools has released six commemorative Journeyman(TM) hand tools that feature the Klein Tools 150th anniversary logo.

The six Journeyman tools with the specially lasered anniversary emblem that are now available include: side cutting pliers (J2000-9NE), long nose pliers (J203-8N), diagonal cutting pliers (J2000-48), crimper (J1005), pump pliers (J502-10) and cable cutter (J63050). Each of the tools has been repackaged in special 150th anniversary packaging to commemorate the milestone.

Klein Tools Journeyman line of hand tools feature contoured, cushioned handles. The handles are made using a state-of-the-art, dual-material molding process that allows for a softer, more comfortable firm grip on the outer surface. The inner surface and handle ends have a harder, more durable grip, providing ruggedness and durability.

"Representing our premium line, the special commemorative tools are a symbolic gesture of celebrating Klein's founder Mathias Klein, who forged the first pair of pliers in Chicago 150 years ago," said John Cate, director of marketing, Klein Tools. "Mathias Klein set the standard for quality hand tools, and our Journeyman line is an extension of that quality. These tools commemorate our 150 year history, and honor and recognize those who depend on Klein tools."

This year marks Klein Tools' 150th anniversary. In 1857, Klein Tools' founder and blacksmith Mathias Klein forged the first-known U.S.-made pliers in Chicago. Since then, Klein Tools has grown to be the leading manufacturer of a variety of hand tools and occupational protective equipment.

For more information on Klein Tools' commemorative Journeyman tools, please contact: Klein Tools, P.O. Box 1418, Lincolnshire, IL 60069-1418. Phone: (800) 553-4676. Fax: (847) 478-0625. E-mail: [email protected]. www.kleintools.com.