KITAGAWA-NORTHTECH, INC. Introduces New Auto Eccentric Chuck to Their Family of Products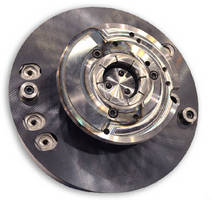 Excellence in Redefining Productivity™ for customers worldwide is Kitagawa-NorthTech's primary focus. The newest chuck model, auto eccentric chuck (model number HG-847-215), was introduced at IMTS in September. This unique system drew a lot of attention due to its productivity enhancing features. Deemed a highly versatile solution, this chuck can handle concentric and eccentric turning in a single operation. This chuck encompasses an offset position feedback and integral counterbalancing capabilities. The auto eccentric chuck is also considered a nice fit within the quick change family of chucks. With no need to change over the top tooling and ease of setup, this chuck is proving to be a great machining device.



By removing the imbalance of eccentric machining, and creating a robust quick change solution, the auto eccentric chuck creates opportunity for operations to significantly increase throughput and profitable growth. This new addition to Kitagawa-NorthTech's vast family of products illustrates the determination to lead the way in Redefine Productivity™ for customers world-wide.



More from Machinery & Machining Tools