Kiosk Terminal can accommodate various applications.
Press Release Summary: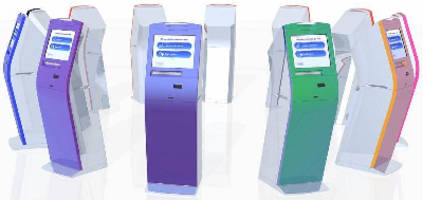 Within one chassis, SUKIT(TM) offers common platform with basic devices and also enables users to add optional units such as 2D barcode and document readers. Flexibility lets customers configure settings according to usage, and 300 dpi, A4-size thermal printer is included for producing high resolution documents. Combining terminal with Internet, mobile terminals, or IC cards, companies can provide non-face-to-face services, safely and reliably on 24/7 basis.
---
Original Press Release:

OKI Unveils "SUKIT,"a Kiosk Terminal for a Wide Range of Applications



- Offers easy-to-use operation for users and operators, and includes a wide high-resolution printer -

TOKYO, November 19, 2008 - Oki Electric Industry Co., Ltd. (TSE: 6703) today launched SUKIT(TM), a kiosk terminal with excellent usability, functionality and expandability, which will be offered in markets in Japan and overseas starting today. The chassis is compact with a common platform and basic devices, and enables customers to add optional units such as 2D barcode readers and document readers. This flexibility enables customers to configure settings according to the usage, such as information search, appointment reservation, membership registration, award points management, etc. By including an A4-size printer as a standard feature, SUKIT can print high-resolution documents with a large amount of information, which had not been offered before.

The world "kiosk" originates from the Turkish word for "garden pavilion," and the term kiosk terminal is used as a self-service information terminal that enables anyone to obtain information and services, whenever and wherever. By combining OKI's kiosk terminal "SUKIT" with the Internet, mobile terminals or IC cards, companies can provide non-face-to-face services safely and reliably, 24/7.

"OKI's SUKIT was developed based on our know-how as the leader in the industry and our strong track records in ATMs (Automated Teller Machine), self check-in terminals for airline companies, and ticket reservation and issuing systems for railroad companies," said Hisao Suzuki, Executive Officer and General Manager of Enterprise Business Division at OKI. "We developed SUKIT with a commitment to offering a user-friendly terminal that anyone, even a first-time user, can easily use. As an example, all necessary devices for operation are placed in the front, and a blinking light on the device can guide users through successive steps."

The concept of enabling 'anyone' to use the system is also applied to the companies who will be installing the system. For example, when changing consumables as part of maintenance, a novice can easily do this by looking at the display, without any special training. In addition, the edges of the machine inside the system are all curved to ensure safe handling.

The first SUKIT will be operated at a large-scale general hospital in the suburb of Berlin in Germany. OKI is receiving inquires from various industries, such as the retail market, based on its track record in the field of ticket issuing and award points management systems operated in transportation and retail markets. OKI will actively offer the SUKIT to customers in various fields in Japan and overseas.

[Sales Plan]

Price: Open price

Shipment: November 2008

Sales target: 2000 units in the next three years

[Major features of SUKIT]

1. Operability: SUKIT offers easy operation not only to users, but also to those who will be installing and maintaining the system.

For users: - All devices necessary for operation are collected in the front. The blinking light will guide users through successive steps.

For companies: - Consumables can be easily changed from the front. (Operators can slide the display upward, and work while watching the display)

- Everyday maintenance is kept easy and consumable changes are minimized as it stores a large volume of papers

- All basic devices are compactly stored and both a stand-alone unit or desktop-type unit are offered.

2. Functionality: SUKIT includes an A4 width thermal printer as a standard feature to print out materials with large amounts of information, something that could not be done with a receipt-type printer. In addition, SUKIT offers high-definition printing with a 300dpi high-resolution printer.

3. Expandability: Customers can choose from a variety of option units including, 2D bar codes, IC cards, fingerprint recognition, call buttons, earphones, cameras, etc.

About Oki Electric Industry Co., Ltd.

Founded in 1881, Oki Electric Industry Co., Ltd. is Japan's first telecommunications manufacturer, with its headquarters in Tokyo, Japan. OKI provides top-quality products, technologies and solutions to its customers through its info-telecom system business and printer business. All businesses function as a collective force to create exciting new products and technologies that satisfy a spectrum of customer needs in various markets. Visit OKI's global web site at http://www.oki.com/.

Notes:

- SUKIT is a trademark of Oki Electric Industry Co., Ltd. in Japan.

- Other names of companies and products are trademarks or registered trademarks of the respective companies and organizations.

More from Cleaning Products & Equipment