Kiosk Enclosures house iPads, tablets, and touchscreen monitors.
Press Release Summary: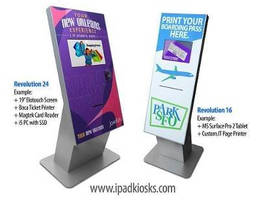 Able to hold any 9–13 in.-class tablet or Elotouch touchmonitor up to 17 in. (up to 24 in. in portrait mode), Revolution 16 also accepts such kiosk devices as PCs, full-page and receipt thermal printers, credit card readers, and barcode scanners. Revolution 24 accommodates larger tablets and Elo touchmonitors up to 22 in. (up to 32 in. in portrait mode) as well as kiosk components. Both models have aluminum body, laser-cut steel base, and front panel laminated with full-color, custom graphic.
---
Original Press Release:

Kiosk Group Introduces Revolution Enclosures for iPads, Tablets and Standard Touchmonitors



Once again, Kiosk Group, Inc. shakes up the kiosk industry with the introduction of their new Revolution series, kiosk enclosures specially designed for iPads, tablets and touchmonitors, all ready to accept a full line of peripheral devices.



FREDERICK, Md. – Today, Kiosk Group, Inc. is debuting the next phase of self-service kiosks with its Revolution 16 and Revolution 24 enclosures. The Rev16 and Rev24 have been designed to offer short lead times, low-cost implementation and a massive area for branding.



The Rev16 will hold any 9" to 13"-class tablet as well as standard Elotouch touchmonitors up to 17" (with 19" 22" and 24" touchmonitors in portrait mode). The 12.2" Samsung Galaxy Tab Pro and the 12.0" Microsoft Surface Pro 3 fit in the Rev16 along with many other tablets. It will also accept most kiosk devices, including PCs, full-page and receipt thermal printers, credit card readers and barcode scanners.



The Rev24 is made for bigger tablets such as the Dell XPS 18 and standard Elo touchmonitors up to 22" (with 24" and 32" touchmonitors in portrait mode). It will also accept various kiosk components.



iPad Kiosk Pioneers



Kiosk Group started the iPad kiosk industry in 2010 with its Victory line of free-standing, countertop and wall iPad kiosks, and is now known for its talents in incorporating standard kiosk components into specialized  enclosures for iPads, Android and Windows tablets.



"We've seen so much demand from customers needing to integrate multiple peripherals into a tablet kiosk that it became clear we needed to evolve our product lineup. We needed a super-flexible enclosure and designs with an emphasis on branding. If customers don't know what a kiosk is for, they won't use it," said Kiosk Group's president, Mike James.



A Kiosk Revolution



The Revolution line has been in design and prototyping for two years - and it's been time well spent. The body is made of lightweight aluminum for low-cost shipping, but has a laser-cut steel base for extra stability.



The kiosks' front panel is laminated with a full-color, custom graphic showing your branding, call-to-action and/or instructions. The printed area is 16" by 43" for the Rev16, and 24" by 43" for the Rev24.



There are two locked access panels. The front panel gives you access to the tablet or touchmonitor plus any devices that are installed on the front surface. The rear access panel is located at the bottom of the kiosk and allows access to the PC or Mac (if used), UPS, thermal paper supply, etc., depending on your requirements.



In addition, both enclosure systems include a surge protector, full hardware integration and all packaging.  The enclosures are absolutely ADA compliant.



Mike James continues: "Our goal is to ship a fully customized Revolution kiosk to our customer within 48 hours of receiving the order and artwork. This will definitely be a transformation in the way custom kiosks are delivered."



Check us out!



Check out the Rev16 and Rev24 kiosks at http://www.ipadkiosks.com/revolution.



CONTACT: For more information, please contact Kiosk Group, Inc. at 301-637-8333 or

[email protected]

.



Web Site: http://www.kioskgroup.com