Keysight's Nemo Outdoor measures 5G base station signal power levels.
Press Release Summary: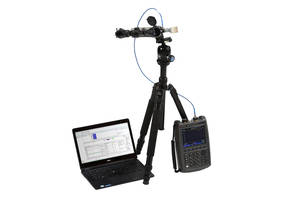 Combining FieldFox handheld RF and microwave analyzers, Keysight's Nemo Outdoor helps mobile operators to measure 5G radio propagation and coverage. Capable of measuring radio interference parameters in wireless networks, unit's analyzers offer a range from 4 to 50 GHz. Product uses analytics tool for providing capabilities to visualize and post-processing data.
---
Original Press Release:
Keysight Technologies' New 5G Test Solution Ensures Accurate 5G Planning Models, Coverage for Mobile Operators, Network Companies - Shortens Time-to-Market
Capabilities include visualization and post-processing of measurement results
Highlights:
Combines Keysight's Nemo Outdoor with FieldFox to enable field testing of 5G radio coverage to support early radio network planning
Measures 5G base stations signal power levels
Keysight's Nemo Outdoor field test solution measures radio interface parameters in wireless networks
Keysight's FieldFox handheld RF and microwave analyzer has a range from 4 to 50 GHz
Keysight Technologies, Inc. (NYSE: KEYS) today announced a solution for measuring, analyzing and visualizing the coverage generated by 5G base stations. Keysight's Nemo Outdoor, combined with FieldFox handheld RF and microwave analyzers, enables mobile operators and network vendors to measure 5G radio propagation and coverage. The solution uses the Nemo Outdoor analytics tools to provide capabilities for visualizing and post-processing data, enabling network equipment manufacturers and mobile operators to evaluate and verify 5G base station propagation models for indicating 5G cellular coverage levels.
Mobile operators require extensive measurements and research to gather information about cellular mm-wave propagation in different radio environments - indoor and in the field. Real-world 5G measurements allow operators to supplement and verify initial radio network plans and models.
"Since there are currently no 5G devices and very few 5G radio field measurement solutions available, mobile operators face the challenge of verifying that propagation models used in 5G network planning match reality," says Juha Laukkanen, director, drive test and benchmarking products, Keysight. "Keysight's solution, which combines Nemo Outdoor and FieldFox, offers users a unique tool to ensure that the accuracy of 5G planning models. Measuring signal power levels from 5G base stations in the field enables operators and network vendors to verify 5G propagation models, securing the deployment of the network and, ultimately, speeding up time-to-market."
Keysight's 5G RF measurement solution provides a complete measurement system for millimeter wave propagation, including the necessary software and hardware to collect, post-process, analyze and visualize the data - generating statistical information that can easily be shared throughout the organization.
Additional information about Keysight's 5G base station coverage solution is available at www.keysight.com/find/nemooutdoor
About Keysight in 5G
The development of 5G depends on up-to-date tools that let designers easily explore new signals, scenarios and topologies. Keysight's 5G solutions are ready to enable deeper insights as development evolves with the standard. In design and test, Keysight is helping industry leaders innovate across new and existing technologies as they transform ideas into reality. Additional information about Keysight's 5G design, test and measurement solutions is available at www.keysight.com/find/5G.
About Keysight Technologies
Keysight Technologies is a leading technology company that helps its engineering, enterprise and service provider customers optimize networks and bring electronic products to market faster and at a lower cost. Keysight's solutions go where the electronic signal goes, from design simulation, to prototype validation, to manufacturing test, to optimization in networks and cloud environments. Customers span the worldwide communications ecosystem, aerospace and defense, automotive, energy, semiconductor and general electronics end markets. Keysight generated revenues of $2.9B in fiscal year 2016. In April 2017, Keysight acquired Ixia, a leader in network test, visibility, and security. More information is available at www.keysight.com.
CONTACTS:
Geri Lynne LaCombe, Americas
+1 303 662 4748
http://geri_lacombe@keysight.com
Sarah Calnan, Europe
+44 (118) 927 5101
Connie Wong, Asia
+852 3197-7818
More from Controls & Controllers