Keyboards/Keypads feature custom labeling.
Press Release Summary: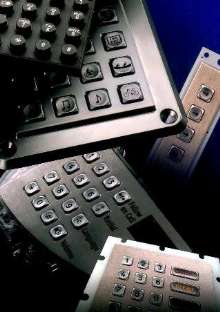 Keyboards and Keypads are available with customized laser engraving in range of characters including upper and lower-case letters, both Roman and Greek engineering characters, super/subscripts, and customer-supplied graphics. Markings are burned into keys, resulting in wear-resistant legend. As alternative to engraving, LEDs can be positioned behind key to provide well-lit legend for outdoor, dimly lit environments. LEDs vary in color and voltage.
---
Original Press Release:

The Writing is on the Wall for Both Standard Keypad and Keyboard Engravings


As being the expert in Human Machine Interfaces, EAO now offers as part of their customizing capabilities, keypad and keyboard function keys labeled to your exact needs.

Laser engraving, as performed by EAO's sophisticated computer-controlled engraving machines, offers customers the ability to precisely mark their keypad and/or keyboard with a wide range of characters ranging from upper and lower-case letters, both Roman and Greek engineering characters, super/subscripts, and/or customer supplied graphics. This advanced labelling process consists of effectively "burning" the markings into the keys therefore resulting in a precisely far more wear-resistant legend, as compared to other conventional styles of engraving. Conventional engraving/etching methods can still be performed on plastic keys of EACI's other lines of complementary products.

As an alternative to engraving, LED illumination can also be offered as a possibility for customization. LED's can be strategically positioned behind the key to provide a rugged, well-lit legend as needed in outdoor, dimly-lit environments. LED choices can vary in both color (red, yellow, or green) and voltage.

From economical plastic keypads to vandal-resistant stainless steel units, EAO's range of products can be customized for most applications including payment terminals, access control, vending, help terminals, and telephones/ internet / public-information kiosks - often meeting the rigorous requirements of the ADA.

Whether in standard or custom layouts, EAO's range of keypads and keyboards are suitable for the sophisticated interfaces required on modern self-service terminals. Common interface options such as "Pay Now", "Enter PIN", "", "Home" or "SOS" are increasing with the growth of self-service transactions - an ideal fit for EAO's customizing capabilities.


More from Electrical Equipment & Systems