Keyboard Control meets demands of CCTV environment.
Press Release Summary: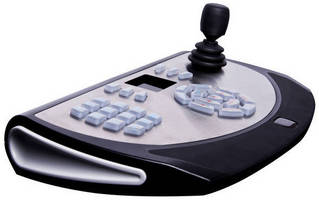 Able to control all Vista DVRs, matrices, and Speed Domes, VKBD4 Control Keyboard can also control various third party devices via built-in multi-protocols. Up to 16 keyboards can be connected to RS485 network, and hierarchical priority supports up to 255 devices. For additional control flexibility, 2 different RS485 protocols can be run simultaneously. Navigation is facilitated via 3-axis joystick and 31-tactile push button control keys.
---
Original Press Release:

Powerful New Vista VKBD4 Control Keyboard Now Available



Reading UK -- Designed to meet the stringent demands of the CCTV control environment, the new Vista VKBD4 Control Keyboard offers installers and operators a feature rich, high-performance and durable system controller.

Delivering total systems design and operational flexibility, the VKBD4 Control Keyboard can not only control all Vista DVR's, matrices and Speed Domes, but also features built-in multi-protocols to permit integration and control of numerous 3rd party devices.

Accommodating multiple users and installation expansion, up to 16 keyboards can be connected to a RS485 network, with hierarchical priority to support up to 255 devices. Adding control flexibility, two different RS485 protocols can be run simultaneously.

Ensuring operators can fully utilize the powerful systems control at their fingertips, easy navigation through system operations is assured via a 3-axis joystick, and 31-tactile push button control keys. Six tri-state, colour-coded multi-function soft keys, automatically change functionality depending on which mode the keyboard is in. They indicate their status via a change of back lit colour, to either; Red (Play mode), Green (Telemetry control mode), or Blue (Live mode).

The provision of quick shortcut keys for setting up Dome presets and Tours, 2 x RS485 outputs, and the ability to configure any camera to any monitor, make the VKBD4 Control Keyboard the ideal choice for any surveillance control application, large or small.

"Providing a carefully engineered human interface to CCTV systems control, attention to detail in the design of the VKBD4 Control Keyboard has created a product that is very easy to use," says Mark Pritchard, Vista's divisional director. "Logically grouped, colour-coded function keys assist the simple and intuitive operation of the keyboard, whist its ergonomic design complements the carefully crafted user-friendly package."

To learn more about this product range, please visit www.vista-cctv.com

Vista (www.vista-cctv.com) is the UK's premier brand of CCTV equipment. Vista focuses exclusively on the development of high quality, functionally rich and competitively priced CCTV products. Range offering an unparalleled product range, reflecting the brand's depth of market understanding, Vista seeks to exceed the exacting requirements of today's specifiers, installers, and end-users. In order to cater effectively for such differing expectations, Vista has developed a comprehensive range of products that span every conceivable requirement from the highest level of security specification to solutions ideal for less demanding, more price sensitive environments. Peace of mind In the UK and Ireland, Vista's core range of products offer a comprehensive 5-year warranty. In addition to this these solutions come with Vista's groundbreaking advanced replacement warranty. This guarantee is designed to further assist Vista customers to provide a better all-round service to their client base. The impact of the new support package is set to provide a host of operational benefits. By supplying a replacement product within 24 hours and alleviating any protracted swap-out downtime, the advanced replacement scheme will facilitate a fast and efficient remedy to on-site issues enabling installers to implement enhanced maintenance services with confidence. Availability Vista products are available from a network of professional installers throughout the UK and Ireland, with accredited agents and distributors to satisfy demand worldwide. Each year, Vista products are sold into over 77 countries across 5 continents. In addition, by utilising advanced stock management techniques, Vista is able to offer next day delivery throughout the UK on orders taken up to 7.00pm. End User Applications Vista's carefully selected range of high performance, top quality products are suitable for an extremely diverse range of situations. Successful implementation within environments such as town centres, retail outlets, transport facilities, sports stadiums, banking enterprises, manufacturing amenities and more has made Vista the choice of today's security professional.

More from Fasteners & Hardware