Keyboard Backlight employs side-firing LEDs.
Press Release Summary: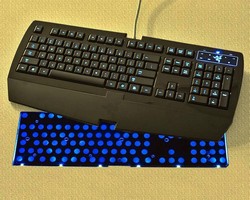 LED-based backlight utilizes MicroLens(TM) technology to extract more light through to keyboard while spreading light uniformly. Diversion features can be molded directly into light guide to bend any portion of light around potential thru-hole, and LEDs can be located on edge of light guide or in middle of backlight, depending-upon surrounding geometry. For desktop/laptop keyboards, backlight thickness is 0.6-0.8 and 0.3-0.4 mm, respectively.
---
Original Press Release:

New Keyboard Backlight from GLT Requires Less Power; Fewer LEDs



Brecksville, OH, March 2008 - Global Lighting Technologies (GLT), Inc. has introduced a new, thinner, LED-based backlight for use with desktop or notebook PC keyboards that provides excellent brightness and uniformity, along with the opportunity to utilize fewer LEDs, reducing the cost of the backlight.

The backlight design utilizes the company's patented MicroLens(TM) light extraction technology and optical engineering expertise to extract more light from the backlight through to the keyboard, increasing brightness while spreading the light more uniformly.

"This is an ideal backlight design for keyboards used by gamers, and it's low-cost makes it an appealing option for mainstream keyboard designers," said David DeAgazio, GLT's Director of Sales Worldwide. "It can be easily customized to OEM requirements, allowing them to really distinguish their products in the marketplace."

The backlight design employs side-firing LEDs that focus their light into a high-performance light guide. Using state-of-the-art optical simulations, GLT's designers can optimize uniformity, and, in some cases, use diversion features that are molded directly into the light guide to "bend" a portion of the light around a potential thru-hole, resulting in a very uniform backlight that gets more collimated light from the light guide through to the keyboard. LEDs can be located on the edge of the light guide, or in some cases, in the middle of the backlight, depending-upon the surrounding geometry. The backlight can be thinner and provide a brighter, crisper and more uniform light, which may require fewer LEDs. This reduces the high cost, thickness, and power consumption associated with other backlighting methods such as screen-printed light guides or direct LED lighting.

"MicroLens(TM) provides superior control over output and uniformity, resulting in a brighter, more uniform backlight in a thinner form factor with fewer LEDs," said DeAgazio. "Custom designs are easily scalable to different sizes."

Typical backlight thicknesses that can be provided for desktop keyboards are in the 0.6 mm-0.8 mm range. For laptop keyboards, even thinner backlights in the range of 0.3-0.4mm can be realized.

GLT's three Far East production facilities make it possible for the company to offer these backlights in production quantities with quick delivery; and the extensive design and engineering capabilities at its Brecksville, Ohio, USA headquarters provide full custom design, prototyping, test & measurement, and optical modeling/simulation.

Pricing for GLT's keyboard backlights depends upon application, size, and volume. For details, contact Global Lighting Technologies with your application.

For more information, contact
Global Lighting Technologies,Inc.,
525 Andrews Circle,
Brecksville, OH 44141.
Tel: 440-922-4584;
Toll-Free: 866-922-4584;
Fax: 440-922-4585.
E-mail: info@glthome.com;
Web: www.glthome.com.

Reader Service Inquiries:
Please e-mail to send to
David DeAgazio at sales@glthome.com.
Or
mail to
David DeAgazio,
Global Lighting Technologies, Inc.,
55 Andrews Circle,
Brecksville, OH 44141.

More from Cleaning Products & Equipment