Key Validator remotely programs electronic keys.
Press Release Summary: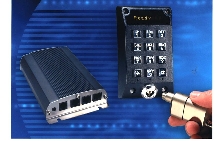 CyberKey(R) Remote Validator lets users receive entry authorization each day at exterior of building or complex. It consists of two parts: KeyPort and Hub. KeyPort is installed at outside entrance. It has display, keypad, and connection for key. User inserts key into KeyPort, and is then prompted to enter pin number. Once that is verified, new access information is programmed into user key. Hub connects to host computer using either LAN or modem.
---
Original Press Release:
Videx Announces the CyberKey Validator

Long-Distance Programming of Electronic Keys!

Videx introduces a communication station that programs electronic keys with access privileges at a remote location. With the CyberKey(R) Remote Validator, users can now receive entry authorization each day at the exterior of a building or complex by inserting their key into the communication station.

In high-security areas, or in applications with high personnel turnover, key control can be best achieved by setting a frequent expiration date in each user key, for example, at the end of each eight-hour work shift. With the ability to authorize keys on an as-needed basis, Remote Validator eliminates problems associated with lost keys and unauthorized entry. Plus, the system eliminates wrongful entry by someone using a key outside of an assigned work schedule, and prevents key duplication.

The Remote Validator consists of two parts: the KeyPort and Hub. The KeyPort is typically installed at the outside entrance of a facility. The KeyPort has a display, a keypad, and a connection for the key. A user first inserts their key into the KeyPort, and is then prompted to enter a pin number. Once that is verified, new access information is programmed into the user key. At the same time, the record stored in the key of the previous day's entries is downloaded to the host computer.

The Hub is designed to connect to the host computer either with a LAN or with a modem. If connected with an internal network, the Hub communicates directly to the host computer real-time. If the modem connection is used, then the Hub receives daily calls from the host computer with the authorized access update.

Remote Validator is part of the CyberLocke access control system. With the CyberLock system, each user key carries a schedule of what locks the key is authorized to open, at what times and days, and the length of time the key is valid. Each time the key contacts a lock, a record is made of the date and time of the contact and whether access was permitted or denied.

For information about the Remote Validator and other CyberLock products, contact Videx by phone at (541)758-0521, by fax at (541)752-5285, by email at sales@videx.com, or visit the web
site at www.videx.com.
More from Agricultural & Farming Products