Kerk's Lead Screws Provide Superior Performance with Kerkote® TFE Coating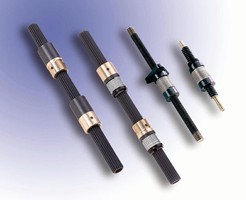 Kerk Motion Products, one of the world's premier manufacturers of non-ball lead screws, offers superior performance lead screw, linear rail, spline shaft and ScrewRail® actuator assemblies with its Kerkote® TFE coating. Kerkote reduces friction and extends the life of Kerk's cost-effective, maintenance-free assemblies, which are ideal for motion control applications in a variety of industries.

Kerk's Kerkote TFE coating is more evenly distributed than other lubricants, decreasing erratic drag torques and unpredictable wear. Designed exclusively for Kerk's components and assemblies, Kerkote provides the maximum level of self-lubrication, requiring no additional external lubrication or maintenance. Since it is a dry lubricant, Kerkote will not become dry and paste-like, and does not attract dirt or debris. Kerkote differs from conventional plating and coating because it is soft, making it perfect for extending the life of Kerk's polymer nuts and bushings.

About Kerk Motion Products
Established in 1976, Kerk Motion Products, Inc. is one of the world's largest exclusive manufacturers of non-ball lead screws. The company, headquartered in Hollis, NH, develops internationally patented, anti-backlash designs and materials that provide high accuracy, unsurpassed repeatability, and long life in a full range of motion control applications. The company's production facilities include its own injection molding and moldmaking, CNC machine tools, and a quality control department utilizing real-time SPC. For more information about Kerk Motion Products and its lines of lead screws, screw rails, and linear rails, contact Kerk Motion Products, Inc., 1 Kerk Drive, Hollis, NH 03049; Call 603-465-7227; Fax 603-465-3598. More information is available at www.kerkmotion.com.

More from Architectural & Civil Engineering Products