KBDM PCD face milling system offers finishes of 2 to 3 ìm Ra.
Press Release Summary: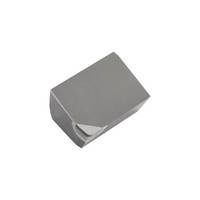 Using fine-pitch aluminum body with wedge-style clamps and adjustable pockets, KBDM PCD face milling system is stocked in standard sizes of 2.5 - 8.0 in. (63 - 200 mm). Designed for high-volume machining, unit enables initial cutting speed of 3280 ft/min (1000 m/min) and feedrates of .004 in. per tooth (0.01 mm). With small diamond grains, KD1400 offers excellent chipping resistance. Using large diamond grains, KD1425 provides abrasion resistance.
---
Original Press Release:
PCD Performance
Automotive aluminum has met its match with the new KBDM face milling platform from Kennametal Anyone who´s replaced a head gasket on an internal combustion engine knows a smooth, flat surface on both cylinder head and block is needed for proper operation. No one understands this better than automakers, who strive for predictable, controlled surface finishes and high production output, together with maximum tool life and the lowest tooling cost per machined component.
Many machinists might think, »What´s the big deal? Aluminum is one of the easiest materials around.» And while that is certainly true of the ubiquitous 6061-T6, nothing could be further from the truth when it comes to the aluminum alloys used in automotive applications. Grades 319 and 390, for example, are readily cast into the complex shapes needed for engine blocks, pistons, heads, pulleys, and similar parts, but due to their high silicon content—easily 20 to 30 times that of 6061—they´re like cutting sand.
Fortunately for those charged with machining these abrasive metals, there´s a better alternative than carbide cutting tools, one that produces mirror finishes and produces tens of thousands of parts per edge.
»Finishes of 2 to 3 μm Ra are easily obtainable, as is tool life between indexing of 40,000 engine blocks, cylinder heads, and other automotive components,» says Tim Marshall, Senior Global Product Manager for Indexable Milling at Kennametal. »This new face milling platform uses a fine-pitch aluminum body with wedge-style clamps and adjustable pockets. A variety of polycrystalline diamond (PCD) inserts are available, from mini-tips for light finishing cuts to full face wipers, standard cartridge inserts, and 1/2 in. (12.7 mm) axial cutters for heavy roughing and shoulder cutting.»
He´s talking about the KBDM PCD face milling system from Kennametal. Designed for high-volume machining, the KBDM is stocked in standard sizes of 2.5 - 8.0 in. (63 - 200 mm), although Marshall is quick to point out the company´s custom solution capabilities. »We can offer cutters up to 21.5 in. (550 mm) in diameter. This allows customers to machine very large components in a single pass. We also have options for integral shank bodies, HSK mounting, left hand cutter rotation, as well as special edge preps and nose radii.»
There´s more to the KBDM than a robust body design, however. Since automakers often create their own proprietary aluminum alloys, Kennametal has developed two PCD grades to complement it: KD1400 uses small diamond grains and offers excellent chipping resistance and good wear attributes, while KD1425 uses large diamond grains, giving it excellent abrasion resistance and thermal stability but only slightly lower performance where chipping is a concern. Both are capable of very high cutting parameters—depending on the alloy and setup rigidity, Kennametal recommends an initial cutting speed of 3280 ft/min (1000 m/min) and feedrates of .004 in. per tooth (0.01 mm), although substantially higher values are possible.
»A major machine builder conducted cutting tests for us against several competitive solutions,» Marshall says. »Using a 24-tooth, 6.0 in. (150 mm) diameter face mill at 80% radial engagement and 0.04 in. axial DOC (1 mm), we ran at a feedrate of 0.006 in. IPT (0.15 mm) and 9600 ft/min surface speed (2926 m/min). This comes out to 6112 rpm, with a table feed of 880 IPM (22,350 mm). It was really moving. Even so, the KBDM produced a 14.7 Ra surface finish, several points better than the other cutting tools.»
Marshall recommends presetting the KBDM offline using an optical or video style presetter. A small amount of lubricant should be applied to the adjustment and locking screws, and also the wedge side of the pocket. Turn the axial adjustment screw until the insert is 0.0004 - 0.0006 in. (0.010 - 0.015 mm) below the final set height, tighten the locking screws to 31 in/lb. (3.5 Nm)—don´t overtighten—then adjust each insert to its final height position. If using a wiper insert, set it 0.0006 - 0.0008 in. (0.015 - 0.020 mm) higher than the rest.
»It´s simple to set up,» Marshall says. »You can easily get everything within a couple microns. That's one of the keys to successful face milling, not only for proper balance at high spindle speeds but also for achieving the desired surface finish—when you're finishing a deck face on a block or head, both are critical.»
Adjusting the KBDM is a straightforward process—use an optical presetting device whenever possible, and DON´T OVERTIGHTEN!
KBDM PCD inserts are available in a variety of sizes. Here, a mini-tip suitable for finishing cuts is shown.
KBDM cutters are stocked in standard sizes of 2.5 - 8.0 in. (63 - 200 mm), although specials up to 21.5 in. (550 mm) in diameter are possible.
KennametalAt the forefront of advanced materials innovation for more than 75 years, Kennametal Inc. is a global industrial technology leader delivering productivity to customers through materials science, tooling and wear-resistant solutions. Customers across aerospace, earthworks, energy, general engineering and transportation turn to Kennametal to help them manufacture with precision and efficiency. Every day nearly 12,000 employees are helping customers in more than 60 countries stay competitive. Kennametal generated more than $2.6 billion in revenues in fiscal 2015. Learn more at www.kennametal.com
Kennametal Inc.
1600Technology Way
PO Box 231
Latrobe, PA 15650-0231
USA
Kathy LINDEN
Phone: 724 539 5698
Fax: 724 539 6766