Kasto Goes to Extremes at Mach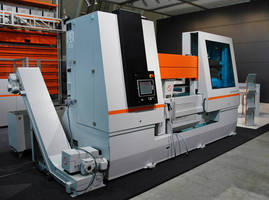 From the top end of its product range, KASTO will show a KASTOtec AC5 automatic bandsawing machine with, for the first time, a low speed, high torque gearbox for cutting nickel alloys and other tough materials.

Designed for maximum productivity when used with coated and uncoated TCT (tungsten carbide tipped) blades, the machine and the smaller -tec AC4 are the best-selling, high performance bandsaws in the UK by far.

Of sturdy build, the KASTOtec AC5 has a steel / mineral cast composite construction that is six to eight times more vibration-absorbing than cast iron. The powerful main drive is through a rigid, play-free, spur bevel gear delivering 98 per cent of the available power directly to the drive wheels.

Double bearings on both the driven and idle blade wheels promotes stable, even power flow and allows band tension to be raised, which translates into higher accuracy cutting.

Top precision is achieved by having blade guides as close as possible to the stock on both sides and maintenance-free linear guides for the hydraulic infeed. Together with feedback of cutting force, blade speed and position, they provide consistent feed per tooth, irrespective of the ambient temperature.

Other functions of the KASTOtec AC5 include automatic slowing of band speed and feed rate during entry and when exiting the cut to prolong blade life, and optional, non-contact deflection monitoring to detect if the band is wandering outside preset limits. A patented feature involving retraction of the stock and blade on completion of a cut avoids marking the face of the material or cut piece and eliminates the risk of damaging the blade teeth.

Rest piece length is down to 35 mm in automatic mode, the shortest in the industry, allowing users to save thousands of pounds per year through a reduction in scrap levels, particularly when expensive materials are being processed.

New range of workshop saws

At the other end of the spectrum, KASTO will show representative models from its new Dealer range of sawing machines, which is now built exclusively in Germany. There are already six dealers located around the UK and more are being sought.

As regards these machines, which are at the lower cost end of the manufacturer's range, a similar message will be promoted, namely that users can expect reduced lifetime costs when using KASTO saws compared with if cheaper but inferior products are purchased.

The KASTOfunctional A automatic, pivot-type bandsawing machine has hydraulic infeed and is of solid construction with a robust, torsion-free welded base for rigorous use in workshops. It is capable of cutting-to-length material up to 260 mm round / square. Mitre-cutting to the left by 45 degrees and to the right by 60 degrees can also be performed on tube, section and solid material. The mitre angle can be adjusted without having to alter the material position to achieve the correct cut length.

By minimising set-up times, cutting performance is maximised in automatic mode. Precise ballscrew drive ensures exact positioning of the stock prior to cutting. The hydraulic horizontal clamping vice ensures accurate cutting without slippage and also allows short rest pieces to minimise material wastage. Cutting speed is infinitely adjustable from 20 to 110 m/min to suit any type of metal, even tough varieties. Various inclined magazines for material are available for unattended cutting of large orders.

The new BasicControl with swivelling operator's panel ensures optimum machine operation via function keys. Up to 98 programs can be preselected. After making the desired number of cuts, the machine shuts off automatically.

Another workshop bandsawing machine on show for the first time will be universal model, KASTOpractical E 2, for manual or semi-automatic cutting of rounds up to 230 mm diameter and up to 220 mm square material. The machine has a pivoting bow and is capable of mitring 45 degrees to the left and 60 degrees to the right.

Features include two cutting speeds (34 or 68 m/min), precision infeed adjustment, horizontal clamping, material support roller and integral coolant system. Saw band tension is adjustable and accurate, burr-free cutting is promoted by pretensioned carbide guides. On this machine also, length adjustment is not needed when changing the mitre angle.

KASTO Ltd, Unit 5, Garamonde Drive,

Wymbush, Milton Keynes, MK8 8DF.

Tel: 01908 571590. Fax: 01908 566106

E-mail: sales@kasto.uk.com

Web site: www.kasto.uk.com

Contact: Ernst Wagner, Managing Director.

THE RIGHT IMAGE Ltd,

PO Box 42, Twickenham, TW1 1BQ.

Tel: 020 8891 0603.

E-mail: chris@therightimage.net

Contact: Chris Wright.

More from Services