Kalrez® 9600 Perfluoroelastomer Compound comes in olive-green color.
Press Release Summary: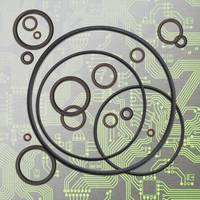 Kalrez® 9600 Perfluoroelastomer Compound is available in standard O-ring sizes, custom parts and bonded door seals. Unit offers resistance against ozone, ammonia, fluorine and oxygen radical. Product is suitable for atomic layer and chemical vapor deposition, etch process applications. Compound provides longer seal life.
---
Original Press Release:
DowDuPont Transportation & Advanced Polymers Introduces Kalrez® 9600 Perfluoroelastomer Parts
High-Performance Seal Material Developed Expressly for the Semiconductor Fabricating Industry
DowDuPont Transportation and Advanced Polymers, a business segment of DowDuPont Specialty Products Division, announced today the introduction of DuPont™ Kalrez® 9600, an innovative perfluoroelastomer compound developed to meet the needs of the semiconductor fabricating industry.
A well-balanced, high-purity perfluoroelastomer product, Kalrez® 9600 provides longer seal life by offering enhanced performance properties in an array of aggressive and emerging high-temperature plasma applications. It has shown excellent ozone, ammonia, fluorine and oxygen radical resistance as well as ultralow outgassing and outstanding thermal stability. Kalrez® 9600 is based on a proprietary cross-linking system and is uniquely identifiable by its olive-green color. It is especially suited in plasma deposition applications such as atomic layer deposition and chemical vapor deposition, as well as etch processes used to fabricate next-gen chips in the semiconductor industry.
"Kalrez® 9600 is an innovative product for the semiconductor fabricating industry and builds on the performance of Kalrez® 9100 and Kalrez® 9500. It offers longer seal life with better sealing functionality at higher temperatures in vacuum plasma processes," said Lakshmi Krishnamurthy, ‎Global Market segment leader, Electronics, Energy & Material Handling, DuPont™ Kalrez® and Vespel®. "The DuPont™ Kalrez® business is always looking for opportunities to innovate in ways that help our end-users and customers, and we're pleased to be able to offer a sealing material that helps improve productivity, increase yield and reduce the total cost of ownership in semiconductor fabrication processes."
Kalrez® 9600 joins a portfolio of high-performance materials that DowDuPont offers to the electronics industry and is supported by a world-class technical support team with notable expertise in sealing solutions. Kalrez® 9600 is available in a broad range of standard O-ring sizes and custom parts, including bonded door seals for a variety of sealing applications.
About DowDuPont Specialty Products Division
DowDuPont Specialty Products, a division of DowDuPont (NYSE: DWDP), is a global innovation leader with technology-based materials, ingredients and solutions that help transform industries and everyday life. Our employees apply diverse science and expertise to help customers advance their best ideas and deliver essential innovations in key markets including electronics, transportation, building and construction, health and wellness, food and worker safety. DowDuPont intends to separate the Specialty Products division into an independent, publicly traded company. More information can be found at http://www.dow-dupont.com.
Related