KALLISTA 3D Printed Grid Sink Faucet Receives Chicago Athenaeum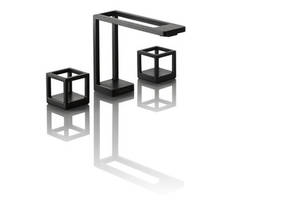 Good Design® Award in The Bath and Accessories Category
Kohler, Wis., Jan. 24, 2019 /PRNewswire/ -- KALLISTA, part of the Kohler Decorative Products Group, announced today that they are the recipient of The Chicago Athenaeum Museum GOOD DESIGN Award, Bath and Accessories category, for the KALLISTA Grid™ Sink Faucet with Cube Handles. The trademarked awards program was founded in Chicago in 1950 by architects Eero Saarinen, Charles and Ray Eames and Edgar Kaufmann, Jr.
This is the 68th year the Chicago Athenaeum Museum has conducted the Best Consumer Design Products and Graphics GOOD DESIGN awards, reviewing product submissions from over 50 countries. This juried award continues to create a revived awareness about contemporary design and to honor both products and industry leaders in design and manufacturing that have chartered new directions and pushed the envelope for competitive products in the world marketplace.
The awards cover new consumer products, graphics, and packaging designed and manufactured in Europe, Asia, Africa, and North and South America and organized annually by The Chicago Athenaeum Museum of Architecture and Design in cooperation with the European Centre for Architecture, Art, Design and Urban Studies. Having awarded over 40,000 GOOD DESIGN awards since its inception, entries included categories in design and innovation, sustainability, creativity, branding, ecologically responsible design, human factors, materials, technology, graphic arts, packaging and universal design.
KALLISTA Grid Sink Faucet with Cube Handles
The Grid Sink Faucet with Cube Handles are a part of the Grid Collection from KALLISTA. This boutique collection resonates with tailored elegance and harnesses the visual impact negative space can command by stripping away the confines of traditional design elements to expose the intrinsic beauty of simple, geometric form.
Grid pays homage to the architects, designers, and artists that stepped away from 19th century design norms setting off an artistic revolution that literally took the world by storm. It was this shift from ornamentation and pomp to spare, restrained form that began a new genre in design – one that continued to grow throughout the mid-20th century and remains one of the most significant chapters in the history of design.
"Intrigued by the fundamentals found in the De Stijl movement and how it embraced the de-massing of a design has always sparked my imagination as to how it all comes together," explained Bill McKeone, Design Studio Manager, KALLISTA. "The same curiosity is behind my work on the Grid spout design, which became a reality through 3D technology. I was challenged to design the ideal faucet. What makes it work? As a designer, the challenges that Grid created led me to see things through a different lens and explore the possibilities. I could not be more pleased with the result."
The KALLISTA Grid sink faucet spout employs 3D printing in its unique design elements defying the standard requirements of external housing to incorporate internal components. The form is developed through a layer-by-layer process of powdered steel that is then laser fired to liquid and cooled before another layer is added until the form is complete. To create the Grid faucet spout, KALLISTA partnered with Indianapolis-based 3rd Dimension, a 3D printing specialist and high-quality production metal manufacturer specializing in 3D direct metal printing by employing 3D Systems technology.
Through 3D printing, KALLISTA can achieve the Grid sink faucet's open form and discreet interior channels that allow the water to flow easily through the base. The Grid sink faucet comes standard with the KALLISTA soft touch drain, is fitted with quarter-turn washerless ceramic disc valves for seamless operation and provides an environmentally sound 1.2 gallon minimum/maximum water flow rate.
The Grid sink faucet is paired with the graphic Cube handles, understated open squares that are scaled to comfortably conform to the hand.  The design employs the investment cast process, a technique that begins with a wax mold in which metal is poured and casts a prototype to masterfully recreate the design's intricacy with the type of repetitive precision difficult to achieve with such exacting replication.
About 3D Systems
3D Systems provides comprehensive 3D products and services, including 3D printers, print materials, on demand manufacturing services and digital design tools. Its ecosystem supports advanced applications from the product design shop to the factory floor to the operating room. 3D Systems' precision healthcare capabilities include simulation, Virtual Surgical Planning, and printing of medical and dental devices as well as patient-specific surgical instruments. As the originator of 3D printing and a shaper of future 3D solutions, 3D Systems has spent its 30-year history enabling professionals and companies to optimize their designs, transform their workflows, bring innovative products to market and drive new business models.
About KALLISTA
KALLISTA is known for its designs of luxury plumbing products, offering faucets and fixtures thoughtfully created for tasteful, whole-bath solutions. KALLISTA is available in fine showrooms in major cities throughout the world. KALLISTA, along with sister brands Ann Sacks Tile and Stone, Inc., and Robern mirrored cabinetry and vanities, is a division of the Kohler Co. Decorative Products Group, a wholly owned subsidiary of Kohler Co.
About Kohler
Founded in 1873 and headquartered in Kohler, Wis., Kohler Co. is one of America's oldest and largest privately held companies. Kohler is a global leader in the manufacture of kitchen and bath products, engines and power generation systems, cabinetry, tile and home interiors, and international host to award-winning hospitality and world-class golf destinations.
Contact:
Robin L. Richter
Kohler Co. Public Relations
+ (920) 457-4441, x. 72340
Source Kallista
More from Electrical Equipment & Systems