Kalamazoo Industries Model KM14SC Mitre Saw Designed for Precise Dry Cutting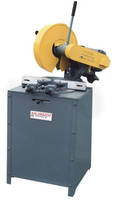 The Kalamazoo Industries Model KM14SC mitre saw uses a 14-inch carbide tipped blade to produce clean cuts without burrs or heat generation. This enables precise dry cutting of thin wall mild steel and aluminum, as well as 1/4-inch angle, pipe and structural steel.

The KM14SC saw features heavy cast iron construction, a 1300 rpm spindle speed, 1-inch arbor, sealed ball bearings, dual V-belt drive, dual camlock vises and an OSHA safety guard that retracts when cutting. Capacities are 4-1/2" at 90 degrees and 4" x 3.5" at 45 degrees.


More from Software