Kalamazoo Industries model K12-14V Abrasive Saw with Vacuum Base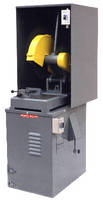 The Kalamazoo Industries model K12-14V is an abrasive saw mounted on a vacuum base that helps prevent dust and abrasive particles from entering the work environment. The saw is accepts either 12-inch or 14-inch abrasive wheels, has a 4400 RPM spindle speed, a one-inch wheel arbor, and can cut up to 2-1/2-inch solids and three-inch pipe.

The Model K12-14V saw utilizes a Kalamazoo Industries DCV-6 dust collector hood and vacuum base with a 400 CFM air circulation. The dust collector has a replaceable metal mesh filter element and a separate manual on/off switch.

Related