K2010: WACKER Unveils a New Fast-Curing Liquid Silicone Rubber with High Tear Strength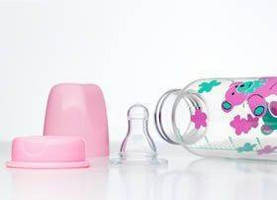 WACKER, the Munich-based chemical group, will be introducing a new line of liquid silicone rubbers at the 18th International Trade Fair for Plastics and Rubber (K 2010) in Düsseldorf, Germany. The new product, ELASTOSIL® LR 3040, features rapid crosslinking together with high tear resistance. With its characteristic properties and excellent injection moldability, it has a wide variety of applications, ranging from automotive to sensitive uses in baby care and domestic and leisure products. K 2010 will take place from October 27 to November 3.

Where baby care products are concerned, there must be no compromises on safety. That is especially true of articles that babies and infants could put into their mouths. Pacifiers, nipples or teething rings, for example, must not contain any plasticizers. In addition, it must be impossible for pieces of the material to be chewed off and swallowed, however severely they are used.

An important property in this regard is tear resistance, also known as notch resistance. Notch resistance is the resistance exerted by a notched test specimen. This mechanical characteristic is considered very important in the baby care sector, and can be correlated with bite resistance.

With ELASTOSIL® LR 3040, WACKER is launching a product line that meets these requirements. And there is another benefit. The liquid silicone features not only high notch resistance, but also higher reactivity. Compared with conventional liquid silicone rubbers, ELASTOSIL® LR 3040 significantly shortens production cycles for the same mold temperature. The new product range can therefore be injection molded far more efficiently - an important benefit in view of the ever stricter demands on the efficiency of manufacturing devices.

Crucial to the successful product development were WACKER's many years of experience and know-how in the field of silicone elastomers, particularly liquid silicone rubbers. ELASTOSIL® LR 3003 and (fast curing) ELASTOSIL® LR 3004 general purpose grades have been in successful use for many years. Moreover, with ELASTOSIL® LR 3043, WACKER already offers a high tear-resistance product with outstanding tensile strength. The new ELASTOSIL® LR 3040 product line offers an inexpensive alternative to ELASTOSIL® LR 3043. It is available in durometer hardnesses from 40 to 50 Shore A and is characterized by higher reactivity.

Besides baby care, ELASTOSIL® LR 3040 can also be used in many other applications. The silicone rubber series is particularly advantageous when used for manufacturing thin-walled parts. Typical examples include parts with complicated geometries and challenging mechanical requirements, such as membranes or automotive valves. Products that have to meet strictest specifications on their quality and mechanical properties can also be produced cost effectively using ELASTOSIL® LR 3040.

Visit WACKER at K 2010 in Düsseldorf. You'll find us in Hall 06, Booth A10.


More from Electronic Components & Devices