K-Tron to Introduce New Extrusion Control System, Micro Feeder for Pellets and Premier Pneumatics Products at K-Show, October 24-31, Hall 10, Booth A74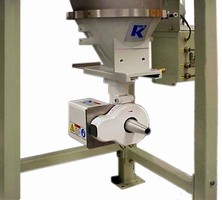 K-Tron will introduce a new version of its Micro Cone low rate feeder. By utilizing a screw-less rotating tube or cone, the Micro Cone Feeder is designed to dose as low as 0.02 to 6 dm³/hr. This new Micro Cone feeder will use KCM controls and a stepper motor and will be available in volumetric and gravimetric models. It can also be incorporated into the K4G blender stand, to offer on-line feeding of very low rate additives. This new version of the Cone Feeder has been undergoing Beta testing at locations in Europe and the USA over the last year.

Several product lines from K-Tron's Premier Pneumatics brand will also be introduced to the European market for the first time. Premier will show both Heavy Duty (HD) and Maximum Duty (MD) Aerolock(TM) rotary valves and a number of Series 2400 vacuum receivers. The Premier Pneumatics Heavy Duty (HD) AerolockTM rotary valve is engineered for heavy duty industrial service and high volumetric efficiency at up to 15 PSI pressure differential. The (MD) Aerolock(TM) rotary valve is engineered for heavy to severe industrial service with pressure differentials up to 20 PSI. The unit is designed to withstand the severe shock loads and elevated temperatures consistent with continuous use.

Since the October 2006 acquisition of Premier Pneumatics of Salina, Kansas, K-Tron has opted to use the Premier Pneumatics brand name for all of its pneumatic conveying lines. The Premier model P10 and P30 vacuum receivers (formerly sold under the PCS brand name) will be also displayed. The P-Series receivers are designed to convey delicate materials and free flowing to poorly flowing powders.

K-Tron Process Group
K-Tron is a global leader in the gravimetric feeder market and a single-source supplier for feeding, pneumatic conveying and systems engineering solutions. The K-Tron Process Group manufactures and markets its equipment for the process industries under the brand names of K-Tron Feeders and Premier Pneumatics. For more information, email [email protected] or visit www.ktron.com.