K-Tron Process Group to Exhibit Food Processing Solutions for Bakery,Tortilla, Biscuit, Cracker and Snack Food Applications at IBIE 2010, September 26-29, Las Vegas Convention Center, Las Vegas, NV, Booth 7350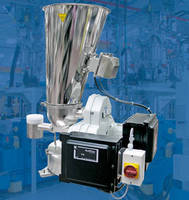 K-TRON PROCESS GROUP - (August 12, 2010)- K-Tron Process Group announces exhibition at IBIE 2010, September 26-29, at the Las Vegas Convention Center, booth 7350. Equipment on display includes an operational demonstration of a loss-in-weight K-Tron T35/S60 Quick Change feeder with ActiFlow(TM) and K-Tron Premier 2410 vacuum sequencing central powder receiver communicating with an LSR controller. For more information and booth highlights, visit www.ktron.com/IBIE.

K-Tron Premier 2410 Vacuum Sequencing Central Conveying Receiver

The K-Tron Premier 2410 powder receiver is designed to handle fine bulk materials. The modular designed receiver allows flexibility in the selection of material construction, power, filtration, receiver inlet sections and type of discharge to meet application requirements. The 2410 receiver is available to be used for either general keep-full conveying or loss-in-weight (LIW) feeder refill applications. The unit offers various discharge valve types, including gravity gate, slide/orifice, and butterfly. Receivers for keep-full applications are generally fitted with a gravity gate discharge valve. Receivers designed for loss-in-weight feeder refill applications are fitted with a level sensor in the housing and require a slide gate/orifice or butterfly valve. The receiver draws material until it is full and waits for a signal from the feeder below to open the discharge valve and dispenses the material. This cycle is then repeated. The 2410 receiver offers a conveying rate up to 408 kg/hr (900 lb/hr).

Quick-Change Feeder: Single-screw / Twin-screw:

The K-Tron loss-in-weight T35/S60 Quick Change Feeder (QC) is designed for applications requiring quick changeover of materials and convenience of fast cleaning. The QC feeder allows for the removal of the entire feed hopper with screws in place and replaced with a second unit. The removed hopper can then be transported to a cleaning facility for further disassembly, cleaning and prepped for another material. In loss-in-weight feeding applications where difficult flowing or cohesive materials form rat-holes or bridging in the hopper, K-Tron's new ActiFlow flow aid eliminates the need for mechanical agitation greatly simplifying the cleaning process. For more information and to preview video, visit www.ktron.com/QC.

ActiFlow(TM): Material Flow Aid

ActiFlow offers a new alternative to other forms of mechanical hopper agitation, reliably preventing bridging and rat-holing of cohesive materials in loss-in-weight feeder hoppers. ActiFlow is a non-product contact device, for applications where the ingredients are difficult flowing and / or cohesive. ActiFlow eliminates the need for mechanical agitators with secondary motors and gearboxes and eliminates the need for flexible side wall agitation devices and aeration pads. ActiFlow greatly simplifies the cleaning process during material change-over and reduces headroom requirements. For more information and to preview video, visit www.ktron.com/ActiFlow.

LSR Controller: Multiple Applications, One system

The K-Tron Premier LSR Controller consolidates several applications into one system allowing the LSR to control either a K-Tron Premier self contained loader or a single central receiver for pneumatically conveying a wide variety of bulk materials. The controller is locally mounted with all 24 VDC unit devices pre-wired. An auto-switching power supply accepts 115 or 230 VAC. The front panel of the controller includes a potentiometer to set draw times, on/off switch, and multicolored LEDs indicate power/alarm, loading status and dump status. Available materials of construction for the enclosure are polycarbonate and stainless steel. The LSR Controller allows for nine different operating modes selectable with internal rotary switch and 10-position dip switch. The economical controller provides precise, reliable controlled filling by time or level and various discharge configurations including gravity or powered gate. For more information visit http://www.ktronpremier.com/LSR.

For booth highlights and show information visit: www.ktron.com/IBIE.

About K-Tron Process Group:
K-Tron is a global leader and single-source supplier for feeding, pneumatic conveying and systems engineering solutions. K-Tron has defined the leading edge of technology for material handling applications in the process industries. The K-Tron Process Group designs, produces, sells and supports its equipment for all process industries under the brand names K-Tron Feeders and K-Tron Premier. Visit www.ktron.com or email info@ktron.com.

More from Communication Systems & Equipment