K-Tron Process Group Exhibits Process Automation Equipment for Batch and Continuous Food Processing at Process Expo 2008, November 9-13, 2008, McCormick Place, Chicago, IL, Booth 17114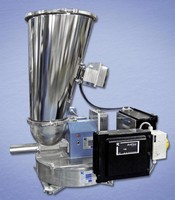 PITMAN, NJ - USA (September 12, 2008)- K-Tron Process Group will exhibit feeding and conveying equipment for food processing applications at Process Expo 2008, November 9-13, McCormick Place, Chicago, IL, booth 17114. Demos on display include: ActiFlow(TM) a new material flow aid that prevents bridging and rat-holing of cohesive materials in hoppers, a K-Tron T35/S60 Quick Change feeder, K-Tron Smart Weigh Belt feeder, K-Vision multi-feeder operator interface, Premier Pneumatics P30 receiver for sanitary pneumatic conveying, Premier Pneumatics 2415 Stainless Steel powder receiver, Premier Pneumatics Quick Clean Aerolock(TM) rotary valve, and a K-Tron K-CL-PH-KT20 twin-screw loss-in-weight feeder with integrated Premier Pneumatics P10 receiver.

NEW Material Flow Aid: ActiFlow(TM)
The K-Tron Process Group introduces ActiFlow, a new alternative to other forms of mechanical hopper agitation. ActiFlow reliably prevents bridging and rat-holing of cohesive materials in stainless steel hoppers. ActiFlow is a non-product contact device, for applications where the ingredients are difficult flowing and/or cohesive. ActiFlow eliminates the need for mechanical agitators with secondary motors and gearboxes. It eliminates the need for flexible side wall agitation devices and aeration pads. ActiFlow greatly simplifies the cleaning process during material change-over and reduces headroom requirements.

NEW Design: Premier Pneumatics P30 Sanitary Receiver
The Premier Pneumatics P30 Sanitary Receiver is designed to convey powders and meets rigid 3A Dairy sanitary standards. The design includes a variety of discharge valve types including power flap and butterfly valve. The P30 can be used for continuous convey applications such as hopper loading, as well as loss-in-weight feeder refill applications. The receiver body is made of stainless steel (DIN 1.4404, AISI 316L), with internal and external electro polished surfaces. The modular design allows for easy disassembly and cleaning as well as simple expansion with volume extensions. Tri-Clover fittings allow for quick disconnection from conveying and vacuum piping. All units have reverse jet filter cleaning.

Enhanced K-Vision: User Interface for Controlling up to 16 Feeders and Vacuum ReceiversK-Vision is an operator interface for controlling up to 16 feeders and vacuum receivers in a single process line. The K-Vision provides advanced trending and logging capabilities, and supports both continuous and batch operation. K-Vision supports multiple languages including Chinese and Japanese. It also includes a selectable quad screen feature and integrated controls for Premier Pneumatics vacuum conveyors.

Premier Pneumatics 2415 Powder Vacuum Receiver
The Premier Pneumatics 2415 vacuum receiver is designed to convey powders. This modular receiver allows flexibility in the selection for material of construction, filtration, and receiver inlet sections. The receiver is assembled using quick-connect clamps that facilitate filter maintenance and receiver cleaning. The 2415 powder receiver offers a conveying rate of up to 1000 kg/hr (2200 lb/hr).

Quick-Change Feeder with ActiFlow(TM) - K-Tron's T35/S60 Quick Change Feeder (QC) is designed for applications requiring quick changeover of materials and convenience of fast cleaning. The QC feeder allows for the removal of the entire feed hopper with screws in place and replaced with a second unit. The removed hopper can then be transported to a cleaning facility for further disassembly, cleaning and prepped for another material. In applications where difficult flowing or cohesive materials form rat-holes or bridging in the hopper, K-Tron's new ActiFlow flow aid eliminates the need for mechanical agitation greatly simplifying the cleaning process.

Premier Pneumatics Quick Clean Rotary Aerolock(TM)
The Premier Pneumatics Quick Clean Aerolock (QC) is well suited for use in the food, chemical, plastics, and pharmaceutical industries where frequent disassembly and cleaning is required. Without disengaging the QC Aerolock from the system, the QC can be easily disassembled, cleaned, and reassembled.

Continuous Controlled Gravimetric Feeding: Smart Weigh Belt Feeder (SWB)
The K-Tron Smart Weigh Belt Feeder (SWB) offers continuous online auto tare reducing laborious manual calibration, and improving long term accuracy. Key features include advanced (SFT) Weighing Technology, auto belt tracking, improved belt cleaning, and improved inlet design. Weigh belt feeders are used in batch and continuous applications for controlling the flow rate of ingredients into the process or measurement of a wild flow of material. It is also applied in applications where headroom is limited, or when feeding friable material that may be damaged by other feeding methods.

Twin Screw Feeder: K-PH-CL-SFS-KT20 running with Premier Pneumatics P10 receiver.
The KT20 offers gravimetric feeding of free flowing to very hard flowing powders. The twin-screw feeder has interchangeable feed screws that are tailored to the material being fed. All parts in contact with the material being fed are stainless steel. The unit is easy to disassemble. The horizontal agitator prevents bridging and moves material to the discharge screws. The scale housing is completely enclosed. The KT20 will be continuously running material and re-circulating the material via a Premier Pneumatics P10 receiver. The sanitary design of the P10 is perfect for applications in the food and pharmaceutical industries.

For more information visit: http://www.ktron.com/ProcessExpo

About K-Tron Process Group:
K-Tron is a global leader in the gravimetric feeder market and a single-source supplier for feeding, pneumatic conveying and systems engineering solutions. K-Tron has defined the leading edge of technology for material handling applications in the process industries. The K-Tron Process Group designs, produces, sells and supports its equipment for all process industries under the brand names K-Tron Feeders and Premier Pneumatics. Visit www.ktronprocessgroup.com or email info@ktron.com.

More from Non-Industrial Products