K-Tron Extends Reach with Enhanced "Materials-Centered" Systems Capabilities for Batch and Continuous Food Processing at Process Expo 2011, November 1-4, McCormick South Hall, Chicago, IL, Booth 3707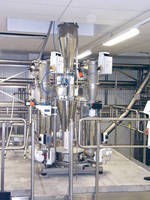 PITMAN, NJ - K-Tron formally announces exhibition at Process Expo 2011, a global food processing and packaging trade event held November 1-4, McCormick Place South Hall, Chicago, IL, booth 3707. As part of the companies "materials-centered" systems capabilities, K-Tron will demonstrate a material handling & continuous feeding system featuring ActiFlow(TM) a new material flow aid that prevents bridging and rat-holing of cohesive materials in loss-in-weight feeder hoppers, the K2-ML-D5-T35 Quick Change feeder, running in application with a K-Tron 2410 Stainless Steel receiver for sanitary pneumatic conveying applications. This fully automated system will demonstrate the companies enhanced material-centered systems capabilities.

Quick-Change Feeder with ActiFlow(TM)

K-Tron's T35/S60 Quick Change Feeder (QC) is designed for applications requiring quick changeover of materials and convenience of fast cleaning. The QC feeder allows for the removal of the entire feed hopper with screws in place and replaced with a second unit. The single-screw feeding elements handle free flowing powders, granules, and other non-flooding materials while the twin screw elements control floodable powders and more difficult, sticky or hard-to-flow materials. The removed hopper can be transported to a cleaning facility for further disassembly, cleaning and preparation for another material. The T35 twin-screw feeder offers feed rates of 1.25 to 2,500 dm3/hr (0.04 to 88.0 ft3/hr), with the S60 single-screw offering feed rates of 0.12 to 4,500 dm3/hr (0.004 to 160 ft3/hr). In loss-in-weight feeding applications where difficult flowing or cohesive materials form rat-holes or bridging in the hopper, K-Tron's new ActiFlow flow aid eliminates the need for mechanical agitation greatly simplifying the cleaning process. ActiFlow is a non-product contact device that continuously activates the material inside the hopper with an optimized frequency and amplitude vibration based on the change in material flow conditions.

K-Tron 2410 Vacuum Sequencing Central Powder Receiver

The 2410 powder receiver is designed for the conveying of fine bulk materials. The receiver is available in two versions for either general keep-full conveying or loss-in-weight (LIW) feeder refill applications, with a selection of various discharge valve types (gravity, slide/orifice and butterfly), depending on the application and material to be fed. Receivers for keep-full applications are fitted with a gravity gate discharge valve. Receivers designed for loss-in-weight feeder refill applications are fitted with a level sensor in the housing and a slide/orifice or butterfly valve. The receiver draws material until it is full and waits for a signal from the feeder below to open the discharge valve and dispenses the material. Conveying rates are based on a distance of 15 m (50 ft) and bulk density of 0.5 kg/dm3 (31 lb/ft3), with conveying rates of up to 408 kg/hr (900 lb/hr).

For more information visit: http://www.ktron.com/ProcessExpo

About K-Tron: K-Tron is a global leader and single-source supplier for feeding, pneumatic conveying and systems engineering solutions. K-Tron has defined the leading edge of technology for material handling applications in the process industries. With industry-wide recognition as the leading supplier of quality feeding systems, K-Tron has extended its reach throughout the process line with enhanced "materials-centered" systems capabilities. To learn more visit www.ktroncan.com or email info@ktron.com.


Related