K-Tron Exhibits Material Handling and Feeding Systems for Primary Resin Production, Compounding, and Extrusion at NPE 2012, April 2-5, Orange County Convention Center, Orlando, FL, Booth 6645, Hall D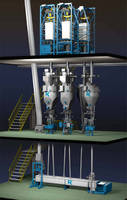 PITMAN, NJ USA - K-Tron formally announces exhibition at NPE 2012,
April 2-5, Orange County Convention Center, Orlando, Florida, booth 6645, Hall D. K-Tron will feature feeding, pneumatic conveying and systems engineered solutions for plastics processing applications including primary resin, compounding, extrusion, and related applications. For more information visit http://www.ktron.com/NPE.

K-Tron ProBlend(TM) Zone Blender provides blending action in a hopper or silo by allowing different zones of material to discharge at different rates. With its special geometric shape, the Zone Blender provides multiple flow zones with material passing through the silo at different velocities and residence times, with material blending as it leaves the vessel. The Zone Blender uses a combination of mass flow (first in / first out) and funnel flow (last in / last out) helping blend homogenization, reducing the effect of segregation in re-circulating, batch or continuous systems.

Bulk Solids Pump Feeder(TM) is a patented feeder line specifically designed and engineered to provide gentle, precise feeding of free-flowing pellets, granules, and friable materials. The BSP feeders do not use screws/augers, belts, or vibratory trays to convey materials. These feeders utilize positive displacement action to move material uniformly, from storage hopper to discharge outlet. Units on display include the BSP-100, BSP-135, and BSP-150.

BSP-135 with P30 Powder Receiver running in application, feeding and pneumatically conveying material in a continuous system. The BSP-135 features three feeding ducts and is designed for feed rates of 22-4400 dm3/hr (0.8 to 155 ft3/hr), and is available in volumetric and gravimetric. K-Tron's P30 provides a custom solution to difficult conveying applications.

K-Tron P-Series Sanitary Receivers are designed to convey difficult powders for continuous conveying applications such as hopper loading and loss-in-weight feeder refill applications that require a high level of sanitary design and frequent cleaning. The receiver body is made of stainless steel (DIN 1.4404, AISI 316L), with internal and external electro polished surfaces. Modular design allows for easy disassembly and cleaning. Tri-Clover fittings allow for quick disconnection from conveying and vacuum piping. All units have reverse jet filter cleaning. Models available include P-10, P-30 and P-100 with conveying rates of up to 4,000 kg/hr (8,800 lb/hr).

K-Tron Filtair Series Filter Receiver provides automatic material-from-air separation with filter bags that are cleaned by bursts of compressed air. Unit allows easy access to receiver's filter bags with control panel regulating the frequency and duration of each pulse with control panel displaying which row of bags is being cleaned.
K-Tron AerolockTM Rotary Valves include the Heavy-Duty (HD), Maximum-Duty (MD), and Blow-Through (BT) Aerolocks. The HD Aerolock is designed for heavy-duty industrial service performing at up to 1.0 bar [15 PSI] pressure differential and temperatures up to 107°C [225°F]. The MD Aerolock is engineered for heavy to severe industrial service with pressure differentials up to 1.4 bar [20 PSI] and temperatures of +121°C [450°F]. The BT Aerolock configuration enhances rotor cleanout and makes installation in tight quarters possible. The heavy-duty BT Aerolock is often used in sticky material applications and designed for industrial service of up to 0.8 bar [12 PSI] pressure differential.

K-Tron Series 2400 Powder and Pellet Receivers provide a high capacity sequencing system designed to handle powder, pellet, regrind and granular materials. Each receiver has a stainless check valve to allow multiple receivers to draw material from a common conveying line. Applications include railcar unloading, silo to daybin transfer, in-plant transfer or feeder refill. Conveying rates vary by model, up to 6,800 kg/hr (15,000 lbs/hr) on a batch basis. Units communicate with PLC and MPC.

K-Tron Quick Change Feeder (K2-ML-T35) with ActiFlow is specially designed for applications requiring the maximum possible material handling and changeover flexibility along with the convenience of fast cleaning. The feeder is available in volumetric or loss-in-weight configurations, both as single or twin screw. Single screw units handle free-flowing powders, granules, pellets and other non-flooding materials, while twin screw units control floodable powders and more difficult sticky or hard-to-flow materials. ActiFlow reliably prevents bridging and rat-holing of cohesive bulk materials in hoppers. It is a non-product contact device, consisting of a patent-pending vibratory drive and intelligent control unit. In applications involving difficult flowing materials, ActiFlow eliminates the need for mechanical agitators, flexible side-wall agitation devices, or aeration pads.

K-Tron Modular Cartridge Bin Vent provides air filtration at an economical cost. While material is pneumatically conveyed into a storage tank, fine airborne particles are trapped by the unit's large cartridge filter. Timed bursts of air pulse the filter, dislodging fines and returning them to the storage tank. The unit mounts on a standard 508 mm [20 in] diameter tank deck flange and is less than 4 feet tall. Maintenance is accomplished from the tank deck without tools.

K-CL-KT20 Twin-Screw Feeder with P-10 receiver demo running in application, feeding and conveying bulk material in a continuous process. KT20 twin-screw feeder displayed on 24 kg scale, with P10 receiver and controller demonstrating a custom solution for difficult conveying applications.

Mico-Ingredient Low-Rate Feeding with K-Tron's MT12 micro feeder accurately feeds free-flowing to difficult to handle powders at rates as low as 20 grams pr/hr and high as 2000 grams / hour.

About K-Tron: K-Tron is a global leader and single source supplier of material handling and feeding systems. K-Tron has defined the leading edge of technology for material handling applications in the process industries. For more information visit www.ktron.com/npe or email info@ktron.com.


More from Communication Systems & Equipment