k-Space Ships 5 Glass Breakage Metrology Systems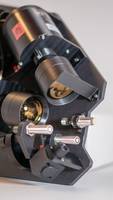 [Dexter, MI, January 26] -  k-Space Associates, Inc. is proud to announce that they shipped five glass breakage and defect detection metrology systems to the U.S. and Asia for a large international manufacturing customer.
The kSA Glass Breakage and Defect Detection tool is an inline vision-based metrology system that determines Go/No-Go (Pass/Fail) conditions for every glass-based panel that passes under its inspection region. The tool identifies defects such as cracks, chips, scratches, digs, and pinholes. Identifying these defects in real-time reduces downtime and scrap costs.
k-Space CEO, Darryl Barlett, stated, "We enjoy working with customers in the glass and solar industries to innovate metrology systems that contribute to their efficiency and profitability. In this case, the customer needed an inline system that detects crack and chip failures in the panels on the order of ~ 1mm or larger. We implemented targeted lighting technology and high-resolution line scan cameras to properly detect the defects while the panels are moving at relatively high line speeds. And we designed the hardware and software to integrate into the customer's existing factory control and PLC infrastructure."
To learn more about k-Space glass breakage and defect detection metrology contact requestinfo@k-space.com.
About k-Space Associates, Inc.
k-Space Associates, Inc. (www.k-space.com) is a leading global supplier of advanced metrology systems for thin-film and industrial metrology applications. Our thin-film metrology applications focus on optical methods for precision measurement of thin-film and wafer temperature, stress, curvature, bow, deposition rate, reflectivity, spectral reflectance and transmission, and reflection high-energy electron diffraction (RHEED). Our industrial metrology solutions cover many industries, including glass, solar, automotive, and building materials. These solutions utilize optical methods to measure color, precise part dimensions, surface defect inspection, and more. Founded in 1992 and known for custom development and unparalleled technical support, our metrology systems are used in research and production facilities around the world. Through extensive customer input and close collaboration with our customer base, k-Space has developed today's most powerful metrology tools.
Contact: Kathy Wheeler, k-Space Associates, Inc., kwheeler@k-space.com
More from Test & Measurement