K-IS-A1FW PLUS Flatbed Scanner Model features built in document counter.
Press Release Summary: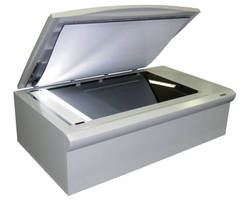 Equipped with dual white LED system for bidirectional scanning, K-IS-A1FW PLUS Flatbed Scanner enables user to control light intensity individually. Unit is featured with 800 dpi optical resolution, 1600 dpi maximum and adjustable 1 dpi increments within 50 dpi to 1600 dpi range and scans 2.1" per second. Product comes with operating software that helps user to perform editing functions and scans 24"x36" color document in 17.5 seconds.
---
Original Press Release:
Paradigm Imaging Group Introduces the New KURABO 24
Paradigm Imaging Group, a leading distributor of large format scanning and printing solutions, announces the release of a new and improved wide format flatbed scanner by Kurabo.

IMPROVED RESOLUTION
Kurabo currently offers the K-IS-A1FW 24" x 36" flatbed scanner with a 400 dpi optical resolution with an 800 dpi max. The latest K-IS-A1FW PLUS model has an 800 dpi optical resolution with a 1600 dpi max. Resolution is adjustable by 1 dpi increments within the range from 50 dpi to 1600 dpi. In addition, has been equipped with the latest Dual White LED system for forward and backward scanning directions. It can control light intensity individually, therefore the scanner can emphasize a shadow of textured images providing a 3D effect.

IMPROVED SPEED
Now with improved scan speed, the Kurabo K-IS-A1FW PLUS scanner can scan a 24"x36" color document in 17.5 seconds in 400 dpi/standard-speed mode. The scan head returns to its home position in 4.5 seconds. Gigabit (1000 base-TX) Ethernet interface connects with PCs including Windows 7/8/10. The scanner has a built-in counter for the number of documents scanned.

The Kurabo K-IS-A1FW PLUS flatbed scanner is a perfect solution for scanning museum art, textiles and delicate documents. Flatbed scanning protects valuable originals making them stationary on the scan glass while scanning with precision and accuracy.

Key Features:

• Arch D Size (24" x 36")

• Flatbed • 800 dpi optical resolution; maximum resolution 1600 dpi

• Scan speeds of 2.1" per second • RGB 3-line CCD (20000 pixels)

• Built-in document counter

• Limited 1 year warranty

• Retail price: $ 55,500

Operating software is included with the Kurabo scanner, enabling the user the preview scanned images and perform basic editing functions. With the optional Aupier-Gigastitch software you can stitch and join multiple sections of scanned images, overlaying CAD & Raster files. A variety of editing tools are available and the high-performance data management system allows operators to display, scroll, enlarge, reduce, layout, stitch, and save high capacity image data easily and quickly.

"The improvements to the new Kurabo flatbed scanner line provide the best features and benefits of any flatbed scanner technology currently in the market." says Randy Geesman, President of Paradigm Imaging Group.

Paradigm Imaging Group will be selling the Kurabo scanners through an exclusive network of specialized dealers and VAR's.

About Kurabo

Established in 1888, Kurabo is headquartered in Osaka, Japan and is a global leader in the textile industry. Kurabo has a diverse product portfolio including chemical products, industrial and building materials, and pollution control systems. Other divisions of the company include biomedical development, electronics and technical research. Kurabo is proud of their century-plus company history. They continue to accept new challenges that go beyond conventional approaches while continuing to cherish their corporate culture.

About Paradigm Imaging Group is a large format solutions provider whose expertise extends from scanning and printing products to imaging systems integration, software development and product distribution. Paradigm counts among its clients companies in reprographics, architecture, engineering, construction and manufacturing, as well as numerous public agencies at all levels of government. Since 1989, Paradigm has grown to become a leading provider of large format scanning and printing solutions.

PARADIGM IMAGING GROUP
3010 RED HILL
COSTA MESA, CA 92626
(888) 221-7226

Contact:
Marilu Lopez
Email: marilu@paradigmimaging.com
Web site: http://www.paradigmimaging.com
More from Fluid & Gas Flow Equipment