Junction Boxes feature single door style with clamps.
Press Release Summary: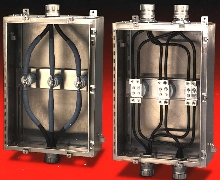 HV Series High Voltage Junction Boxes are available in stainless steel 316L and 304 and polyester powder-coated carbon steel. Enclosures resist impact and prevent possibility of excessive heat and ingress of water or dust, preventing explosions. 1 x 1 Connection Series is for shielded or unshielded cables up to 8kV at 500A, while 2 x 2 Connection Series is for 2 parallel, unshielded cables up to 2kV at lkA total.
---
Original Press Release:
New Increased Safety High Voltage Junction Boxes
Adalet HV Series of Increased Safety High Voltage Junction Boxes feature a single door style with clamps and are available in stainless steel 316L and 304 and polyester powder-coated carbon steel. Adalet Increased Safety Junction Boxes are intended to house electrical equipment that will not generate an arc or spark during normal operation and in which surface temperatures are controlled below incendive values. Increased Safety 'e' enclosures take design measures to resist impact and prevent the possibility of excessive heat and the ingress of water or dust, thus preventing any explosions from occurring. Increased Safety is achieved by enhancing insulation values and creepage and clearance distances above those required for normal service, thereby providing a safety factor against accidental breakdown. The 1 x 1 Connection Series is for shielded or unshielded cables up to 8kV at 500A, while the 2 x 2 Connection Series is for two parallel unshielded cables up to 2kV at lkA total. The HV Series is offered in sizes from 24"x12"x6" to 60"x36"x16" for the 1 x 1 Connection Series, and 20"x20"x8" to 60"x36"x10" for the 2 x 2 Connection Series. Enclosure Certifications: ATEX Directive 94/9/EC: CE 0539 Ex II 2GD EN50014/EN50019: EEx e II T6 (T5 Tamb +55°C) CSA E79-7, IEC 60079-7: Ex e II T6 (T5 Tamb +55°C) UL 2279-7: Class I, Zone 1, AEx e II T6 (Tamb +55°C) UL 1604: Class II, Division 2 IEC 60529: IP66 UL50: Type 4, 4X (stainless steel only), 12 & 13
More from Machinery & Machining Tools