Junction Box provides IP68 and NEMA 6p protection.
Press Release Summary: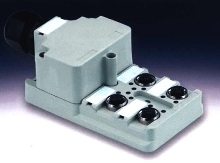 Model SAI 1:1 4-port junction box solves emergency stop-loop wiring problems or can be used for PT 100 3- or 4-cable initiators. It features standard screw-type M12 connectors with 5 floating contacts. Each connector pin is rated for 2 A per contact and total current of 8 A. Unit is supplied with field-attachable hood with protective cable glands for control-cabinet wiring, with screw clamps that can be custom configured to application.
---
Original Press Release:
Exclusive Innovation: ESTOP Distribution or PT100 3 or 4 Cabling Junction Box

RICHMOND (July 3, 2002) - Weidmuller is introducing the SAI 1:1 (patent pending), a highly flexible junction box which solves emergency stop loop wiring problems or for PT100 3 or 4 cable initiators. The SAI 1:1 (One to One) contains the same great modular features of the standard Weidmuller SAI passive modules. In typical e-stop wiring with door guards or safety switches, for example, it is necessary to isolate the contact inputs from the DC Control circuit via a safety relay, it becomes necessary to integrate more than 2 "floating" contacts in an M12 connector. The SAI 1:1 is a four-port junction box with standard screw-type M12 connectors with 5 floating contacts. Each connector pin is rated for a generous 2A per contact and a total current of 8A. It is supplied with a field attachable hood with a protective cable glands for control cabinet wiring with screw
clamps that can be custom configured to fit your application. And if your application requires isolated supplies, the SAI comes complete with color-coded jumpers.

The system provides full protection under IP 68 or NEMA 6p for harsh industrial environments. Cables and cordsets are available, as well as field attachable plugs and sockets for making low cost quick connections. Professional printed marking using standard size marking tags adds a professional touch for a crisp finished product. The product lists for $75.00, and is the only product of its kind in the industry.

Weidmuller, Inc. is the U.S. operation of Germany-based Weidmuller Interface GmbH and Company-the world's leading supplier of electrical connection technology such as terminal blocks, printed circuit board terminals and connectors, relay sockets and plugs, and power supplies. Weidmuller has approximately 3,400 employees worldwide, with 70 sales organizations or offices in more than 60 countries. Weidmuller, Inc. was established in Richmond, Virginia in 1975 and currently employs approximately 130 people in its U.S. operations.

For more information about Weidmuller, Inc. and its products, please contact:

Marketing Communications Manager

Weidmuller, Inc.

821 Southlake Boulevard

Richmond, Virginia 23236

Phone (800) 849-9343

Fax (804) 794-0252

Email info@weidmuller.com

Website www.weidmuller.com
More from Paints & Coatings