Junction Box and Cables are designed for silicon PV solar panels.
Press Release Summary: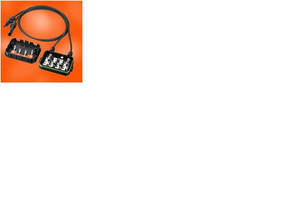 SolarSpec(TM) Junction Box and Cable Assemblies provide interface between conductor ribbons on panel and DC I/O cables. Spring terminals connect base directly to PV ribbon conductors without need for retention clamps or clips, and junction box contains bypass diodes that provide reverse current protection for PV panel. Removable top cover facilitates field repair, and cover and base module are secured together with locking mechanism to prevent accidental exposure of high-voltage contacts.
---
Original Press Release:

Molex Launches SolarSpec(TM) Junction Box for Silicon Photovoltaic (PV) Solar Panels



SolarSpec Junction Box and Cable Assemblies lower automated assembly costs

LISLE, IL - Molex Incorporated has released the SolarSpec(TM) Junction Box and Cable Assemblies designed for installation on the back of mono- and polycrystalline photovoltaic (PV) solar modules. These products provide the interface between the conductor ribbons on the panel and the DC I/O cables. Molex SolarSpec solutions are specifically designed for applications in the solar and renewable energy industry.

"Tremendous growth within the solar-power market is fueling competition in the manufacture of PV solar panels. The automated fabrication of PV modules improves efficiencies, product integrity, and reduces production overhead," states Peter Commane, product manager Molex Incorporated. "By utilizing automated production lines, assembly time of a junction box to a PV panel can be considerably reduced. The SolarSpec Junction Box from Molex is specially designed for pick-and-place panel assembly."

The SolarSpec Junction Box features spring terminals connecting the base directly to the PV ribbon conductors, without need for retention clamps or clips. Optional patented Solder Charge Technology(TM) facilitates high-speed assembly and eliminates the need for hand-soldering of the ribbon, significantly reducing any process variation. Optional double-sided tape removes the need for curing time on silicone when attaching the connector base to a module.

The compact dimensional profile can supply current ratings comparable with traditional larger products. The SolarSpec Junction Box assembly is supplied with two removable DC cables available in dual-qualified (TÜV and UL) or single-qualified (TÜV). The junction box contains bypass diodes to protect the PV panel from reverse current during hours of darkness, shade or when covered by leaves or other debris. The junction box assembly houses the diodes and DC cable in the "removable" top cover of the housing to facilitate ease of field repair or replacement in the event of damage or wear. The top cover and base module are secured together with a locking mechanism to prevent accidental exposure of high-voltage contacts.

The SolarSpec Junction Box is manufactured in ISO certified production plants. The Molex SolarSpec designation ensures the unique requirements of solar applications are being addressed through the use of proven technology, solar-compliant materials and unmatched reliability in rugged environments. The SolarSpec Junction Box is the latest addition in a developing range of Molex connectors and cables assemblies for solar applications. For more information please visit www.molex.com/link/solarjunctionbox.html.

About Molex Incorporated

Providing more than connectors, Molex delivers complete interconnect solutions for a number of markets including data communications, telecommunications, consumer electronics, industrial, automotive, medical, military, lighting and solar. Established in 1938, the company operates 40 manufacturing locations in 17 countries.

The Molex website is www.molex.com. Follow us at www.twitter.com/molexconnectors and watch our videos at http://www.youtube.com/molexconnectors.

Molex is a registered trademark of Molex Incorporated

More from Materials