Judson Smith Company Offers CNC Machining Capabilities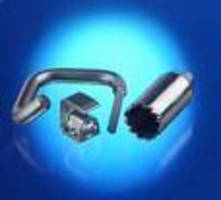 Vertically integrated CNC manufacturing company provides innovative high-quality solutions

BOYERTOWN, PA - Judson A. Smith Company, a leading manufacturer of precision, custom tubular parts and machined components in most materials, offers in-house CNC Machining capabilities for milling, turning, screw machining, wire EDM and laser fabrication. These vertically integrated capabilities enable the company to fully control the process and part quality throughout all manufacturing stages. Competitive lead times, high quality parts and services result in the lowest overall cost for customers.
Judson Smith's CNC machining capabilities allow a complex design prototype to take shape in production. Many years of experience, a creative approach to problem solving and latest machining technology allow Judson to manufacture and package a variety of components and finished assemblies. The materials machined by Judson include: stainless steels, titanium, cobalt chrome, aluminum, plastics and more.

All customers are provided with quality assurance through Judson's ISO 9001:2000 and ISO 13485 certification, Non-Destructive Testing (NDT), MIL-I-45208 inspection system, and ANSI/NCSL Z540-1 calibration system. Inside their 40,000 square foot manufacturing facility, Judson Smith's staff and equipment work to exceed the needs of customers in a variety of industries including: the medical device, aerospace, automotive, electronics and more.

For more information on Judson Smith's CNC Machining capabilities, please visit www.judsonsmith.com.

About Judson A. Smith Company

Judson A. Smith Company is part of the ATW family of companies. For over 40 years, Judson Smith has manufactured precision, custom tubular parts, and machined components in various materials to rigid specifications. Industries served by Judson Smith include Medical, Aerospace, Automotive, Electronics, and many more in which specialized capabilities, including the ability to hold extremely tight tolerances when critical. The company maintains a number of quality certifications, including; ISO 9001:2000; and ISO 13485.

The company blends prototype engineering with short and long run production expertise; it is geared toward fast prototype turn-around and quick ramp-up to full scale production. For more information on Judson A. Smith Company, visit www.judsonsmith.com , call 610-367-2021 or jshields@judsonsmith.com

About ATW Companies

Headquartered in Warwick, RI, ATW Companies runs state-of-the-art manufacturing facilities located in California, Pennsylvania, and Rhode Island. ATW Companies offers global sales and support and is a highly engineered metal solution provider to the metal component marketplace servicing customers worldwide. ATW provides a wide range of fabrication technologies to meet the exacting requirements of industries and diverse technologies for the most critical applications. Through continuously adding value and innovation to their products and services, ATW offers the best solutions for customers and their partners.


More from Fluid & Gas Flow Equipment