JPSA Announces Precision Film Cutting with DPSS Laser Technology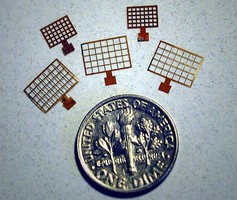 Manchester, New Hampshire, USA - J P Sercel Associates announces rapid, precise film cutting using Diode-Pumped Solid State (DPSS) laser technology. Precision film cutting of materials such as Kapton® and specialty polymers is widely used in the display, biotech and automotive industries. JPSA employs high peak power, short pulsed DPSS laser sources to rapidly and precisely cut films of various materials and thicknesses. A variety of wavelengths are available including 1064nm, 532nm, 355nm and 266nm.

In making the announcement, Jeffrey P. Sercel, President, said "Our DPSS laser cuts film quickly and is compatible with DXF files. By using UV DPSS laser technology and JPSA's proprietary beam delivery techniques, we provide unsurpassed speed and quality in precision film cutting. Heat effected zone is minimized and very narrow webs can be achieved for precision applications."

JPSA offers precision film cutting capable laser systems, as well as film cutting services through its job shop. JPSA systems for film cutting include the IX-200 ChromaDice(TM), a Class 1, fully-enclosed, industrial-grade laser workstation.

JPSA's IX-2500 is a reel-to-reel-based system used for cutting orifice arrays in film into final shape to produce inkjet nozzles. Two IX-2500 series workstations are currently installed and operating in Taiwan in this manufacturing application.

This technology is also applicable for precision cutting thin metal films including silver, molybdenum, copper, tungsten, and gold. Metal cutting applications are of interest for prototyping lead frames for semiconductor packaging and contact masks.

JPSA is the world's leading designer, supplier, and systems integrator of laser materials processing workstations. JPSA products and services include UV excimer, DPSS and ultra-fast laser micromachining systems, UV and VUV laser beam delivery systems, laser materials processing development, optical damage testing, and excimer laser refurbishment services. JPSA operates a high-performance laser job shop as well as a systems engineering and manufacturing business. For more information, visit www.jpsalaser.com, or contact the company at 220 Hackett Hill Road, Manchester, NH, 03102 USA; Tel. 603.518.3200, fax 603.518.3298.

More from Fluid & Gas Flow Equipment