Joysticks suit heavy duty industrial applications.
Press Release Summary: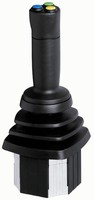 Equipped with multifunction levers for use with industrial vehicles and equipment, J6 joysticks feature 1, 2, or 3 pushbutton operation. With static load capacity of 750 N, joysticks withstand maximum actuating force of 12 N and operate in temperature range of ~9º to 168ºF. Housed in IP67 enclosures, units are offered in standard analog (Hall Effect sensor) or digital (Reed sensor) measurement styles and resist EMC interference. Options include reduced angle designs.
---
Original Press Release:

New J6 Line of Heavy-Duty Industrial Joysticks from Elobau



Elobau Sensor Technology Inc. introduces its J6 line of industrial joysticks, designed for heavy-duty use on various vehicles and equipment, including all types of machinery, cranes, forklifts, construction, oil & gas, forestry, agricultural and materials handling devices. Compatible multi-function levers are available with one, two or three pushbutton operation to suit most any application.

J6 joysticks are offered in standard analog (Hall Effect sensor) or digital (Reed sensor) measurement styles, with voltage, current, PWM and CAN-bus output versions, all designed to resist EMC interferences, even to the demanding specifications of the auto and other industries. Housed in IP67 protection class enclosures, these joysticks are available in multiple mechanical configurations. Each has a static load capacity of 750N in both the X- and Y-axis and can withstand a maximum actuating force of 12N. The units feature multiaxial zero actuation or cross gate. Other gate and reduced angle designs available on request.

Standard angular operating range is ±25º in the X- and Y-axis. A mechanical life of 2 x 106 is typical. Operating temperatures range from -25º to +75ºC (~ 9º to 168ºF).

Elobau joysticks are available with or without a multi-function lever mounted. The literature now offered includes complete part number specifications to build the joystick for most any application.

Elobau is a vertically integrated manufacturer that performs all circuit and cable assembly, plastic molding, assembly and full performance testing at its factories. Thus, modifications to suit virtually all industrial and commercial requirements are achieved quickly and in a cost-effective manner, through the design and engineering talent resident at Elobau.

Interested parties should contact Elobau for full details on these and other controls, sensors and machine safety products.

Contact:
ELOBAU SENSOR TECHNOLOGY INC.
900 North Shore Drive, Suite 215
Lake Bluff, IL 60044
Phone: 847-615-0828
Fax: 847-615-0989
Email: elobau@elobau-st.com.