Joystick/Touchscreen Videoscope aids remote HD visual inspection.
Press Release Summary: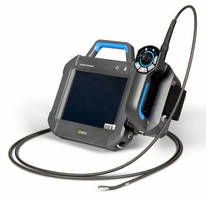 Featuring ergonomic joystick and 8 in. HD touchscreen with 720,000 resolution, JT Alpha offers 4-way probe articulation up to 170° in each direction with automatic reset function. Touch trigger on joystick allows capture of still images or videos, and touchscreen can also serve as alternative to joystick regarding file capture. Along with high-intensity, adjustable LED illumination, features include 1.5 and 3 m insertion probes with protective solid multi-layer tungsten coating.
---
Original Press Release:
Remote Visual Inspection Turned Entertainment: New JT Alpha HD Joystick Type Videoscope
The market of visual inspection devices is currently quite saturated. Consequently, any new tool entering the marketplace needs to be different in a number of ways in order to gain recognition and popularity among the professional community. The new JT Alpha HD Joystick Type Videoscope to be one of the products of exactly that sort. The strongest point of the new tool is its marked focus upon the convenience of the user. All things imaginable have been done to transform working with the new device into an enjoyable experience. First of all, instead of old style plastic or rubber buttons on the unit body, the new JT Alpha features a joystick and a touch screen. The ergonomic joystick is an intuitive solution making probe articulation easier and more precise. The videoscope boasts full 4-way articulation up to 170 degrees in each direction with the automatic articulation reset function. In addition to articulating, the joystick fulfils another important mission. It can be used to manage file capturing. For that purpose the JT Alpha joystick is equipped with a one touch trigger allowing to capture still images or record videos.

The large 8'' high-definition touch screen is another feature designed with the user in mind. A touch screen menu is the entry point to all the functions of the unit. Touch screen may also serve as an alternative to the joystick when it comes to capturing files. The built-in image processing software permits easy labelling, renaming, or deleting captured image files. Still photos are saved in either JPEG or PNG formats, and video files use the AVI format. High-definition screen is another highlight of the videoscope. With the excellent 720,000 resolution it delivers true to life undistorted, crisp, bright and crystal clear image. High-intensity adjustable LED illumination adds to the experience making image handling one of the strongest points of the new videoscope.

The new HD Videoscope offers full 4-way probe articulation. As it is known, probes are usually one of the most sensitive and prone to damage parts of any visual inspection equipment. That is why any additional protection of the probe from bends, scratches, cuts and other hazards will at the end of the day result in savings and less downtime. The JT Alpha insertion probes (a 1.5m and 3m options are available) feature solid multi-layer tungsten coating protecting the probe and greatly increasing its lifetime. Both probe versions come with 6.5mm (0.25'') diameter suitable for most inspection types.

The videoscope set (weighing only 2.3 kilos or 5 lbs.) includes a shoulder strap, a handy carrying case and a touch pencil for easy interaction with the touch screen. Power supply options include an AC power supply and rechargeable Li-ion batteries with up to 3 hours of continuous use.
More from Test & Measurement