Joystick delivers mouse/trackball functionality.
Press Release Summary: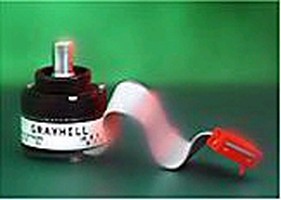 Combining optical encoder, pushbutton, and joystick on single shaft, Series 60A is designed to replicate stationary mouse, trackball, and/or similar position sensing device used with electronic visual display. Joystick manipulates cursor left, right, up, and down, while encoder facilitates sequential scrolling across complex menus, and pushbutton performs on-screen menu selects. Unit delivers 1 million rotational cycles and ½ million joystick actuations in each direction.
---
Original Press Release:

Grayhill's New Series 60A - Mouse-Like Functionality In Less Space



GRAYHILL SERIES 60A COMBINES OPTICAL ENCODER, PUSHBUTTON & JOYSTICK ON A SINGLE SHAFT

Integrated, compact design delivers comprehensive mouse/trackball functionality
with an economy of hand movements

LaGrange, IL (May 15, 2007) - Grayhill, Inc. today introduced the Series 60A three-in-one multifunction joystick, which integrates an optical encoder, joystick and pushbutton onto a single shaft. The device is designed to replicate functionality of the stationary mouse, trackball and/or similar position sensing device often used with an electronic visual display. The 60A is ideally suited for a range of medical, automotive audio, industrial, avionics, navigation, and test and measurement applications where use of these alternate position sensing devices might be impractical. Its compact size occupies minimal panel space, helping users achieve the same scroll-and-select cursor activity using an economy of hand movements.

The 60A's integrated functionality is engineered around an encoder with optically coupled two bit digital output, to deliver superior durability over traditional position sensing products. It delivers a dependable one million rotational cycles and one-half million joystick actuations in each direction.

"The Series 60A provides all the functionality of a stationary mouse or trackball, in a single-shaft design with a compact one-inch body diameter," notes Mike Margraf, engineering manager. "A number of today's medical, automotive, test and measure and industrial applications don't easily lend themselves to the use of a standard position sensing device. That's where the unique, integrated design of the 60A can deliver important benefits."

Margraf explains that the joystick manipulates the cursor left, right, up and down; the encoder facilitates sequential scrolling across complex menus; and the pushbutton performs on-screen menu selects. Audible clicks provide important positioning cues.

"As a result," Margraf continues, "the user can navigate complex menu systems with very little hand movement, and need never break tactile contact with the device controls. Just as importantly, his or her eyes can remain focused on the screen, the road, the patient, or the critical test procedure in progress. This facilitates more efficient operation of everything from patient ultrasound equipment to automotive GPS and entertainment systems."

The 60A is terminated with a cable/connector assembly and is available with 18 degrees or 20 detent positions per rotation. The standard version may be purchased in minimum orders of $500, with lower quantities available through Grayhill franchised distributors. Average pricing for quantities of 1,000 is $26.96 per piece.

Like all Grayhill products, the 60A may also be cost-effectively custom engineered to modify shaft length, rotational torque, haptic feel, or other key features. For more information on the Series 60A or any of Grayhill's products, call (708) 354-1040 or visit www.grayhill.com.

About Grayhill, Inc.
Since its inception in 1943, Grayhill has been a leading designer and manufacturer of high quality switches, encoders, keypads, front panels and - more recently - computer-based devices such as panel-mount and mobile computers. Grayhill's state-of-the-art development tools, in-house ISO-17025 certified test lab, and three fully optimized manufacturing facilities allow its worldwide team to deliver premier customized products both quickly and cost-effectively. The company maintains its headquarters just outside Chicago, IL. For more information, visit www.grayhill.com.

More from Electronic Components & Devices