Joystick-Based Remote Control facilitates ship maneuvering.
Press Release Summary: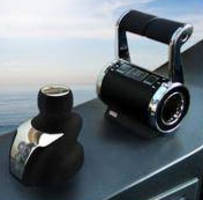 Marex OS II-3D offers traditional control head as well as remote control that can be extended on request by joystick, which lets captain control entire ship with only one hand. Eliminating need to coordinate drive components individually, 3-axis joystick integrates all propulsion components. Captain can decide at any time whether to use traditional control levers together with lever for bow and stern thruster or to use maneuvering assistant. Modular setup lends to system adaptability.
---
Original Press Release:

Marex OS II-3D: The Whole Ship in One Hand



A surplus for every vessel: Marex OS II-3D.

Rexroth now extends its proven remote control Marex OS II by an intuitive Joystick control.

The open control system Marex OS II from Rexroth now offers even more cruising comfort: In addition to the traditional control head, the remote control can now be extended on request by joysticks. The use of the joystick allows the captain to control the entire ship with only one hand. Thus, he can concentrate on maneuvering.

The basic idea of this innovative maneuvering is to control the vessel only by movement of intuitive joystick without having to coordinate drive components individually. The Marex OS II-3D, thus facilitates a steering of a ship by the integration of all propulsion components in a 3-axis joystick. The joystick has two modes: it can be used as control unit for the bow or stern thrusters or as vector control unit for all propulsors (3D-mode). Thus, the captain depending on the situation can decide at any time whether he wants to use the traditional control levers together with the lever for the bow and stern thruster or to use the comfortable maneuvering assistant. In 3D-mode, the directions of movement of the joystick are directly translated into signals for each propulsor based on vector control.

Therefore, both sideways and rotational movements can be accurately implemented. A combination of commands is possible.

The integration of the joystick control system into the proven system architecture of the Marex OS II guarantees the highest flexibility. Due to the modular set-up, the system is extremely adaptable. Whether waterjets, rudder propellers, controllable or fixed pitch propeller applications - there is a solution for all type of propulsion line. All the components of the Marex OS II-3D can be configured to your individual needs and application requirements. All can be tuned up to each other, from the joystick control unit to the 3D-controller up to the thruster interfaces with preconfigured CAN-cables. The system is also suitable to retrofit or extend existing systems.

Bosch Rexroth AG is one of the world's leading specialists in the field of drive and control technologies. Under the brand name of Rexroth the company supplies more than 500,000 customers with tailored solutions for driving, controlling and moving. Bosch Rexroth is a partner for industrial applications and factory automation, mobile applications and using renewable energies. As The Drive & Control Company, Bosch Rexroth develops, produces and sells components and systems in more than 80 countries. In 2008 Bosch Rexroth AG, part of the Bosch Group, achieved sales of around 5.9 billion Euro with 35,300 employees.

For more information please visit: www.boschrexroth.com

Contact for Journalists:

Bosch Rexroth AG
Chantal van Mierlo
Maria-Theresien-Str. 23, 97816 Lohr
Phone: +49 9352 18-1573
Fax: +49 9352 18-1802
chantal.vanmierlo@boschrexroth.de

For product specific questions and reader inquiries:

Bosch Rexroth AG
Cordula Krause-Widjaja
Ulmer Strasse 4, 30880 Laatzen
Phone: +49 511 2136-215
Fax: +49 711 811507-251
cordula.krause-widjaja@boschrexroth.de

More from Mechanical Power Transmission