Joining Technologies Expands Services to Include Resistance Welding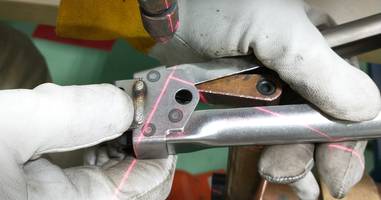 East Granby, Connecticut, August 3, 2021 – Joining Technologies, an innovator in advanced electron beam and laser beam welding (LBW) applications, has incorporated resistance welding into the company's scope of precision joining services.
Resistance welding, also known as spot welding, is unique in that it joins materials using electrical currents and pressure with no filler material. Spot welds can be made at high speed and high volume while remaining cost-effective and environmentally friendly.
"Resistance welding is a process that is almost as widely used as the other welding services that are offered by Joining Industries," says Ian Suponski, Engineering Technician at Joining Technologies.
Beyond offering resistance welding as a stand-alone service, the expansion also means a higher-quality product and a streamlined experience for customers who need multiple welds performed on their assemblies. With resistance welding being done entirely in-house, Suponski says that customers can expect shorter lead times, superior product quality, and lower costs.
"All those benefits lead to a more successful project which makes our customers more successful and the more successful our customers are, the more successful we are," says Suponski.
For more information, visit joiningtech.com/resistance-welding.
About Joining Technologies
Joining Technologies is the leading provider of advanced laser beam welding (LBW) applications, developing quality welding solutions for industries nationwide -- including aerospace, medical device, automotive, energy and national defense. For over 25 years, Joining Technologies has offered superior quality and precision finishing services using laser beam welding, electron beam welding, gas-tungsten arc welding (GTAW), and now, resistance welding. The company is also known for its machining services and supply chain management. Located in East Granby, Connecticut, Joining Technologies' mission is "to create a platform where engaging and meaningful business happens, and to leverage it to improve the lives of everyone that we can possibly touch: our employees, our customers, our suppliers and our community. This is our guiding light, our True North." To learn more, visit joiningtech.com, and connect with us on LinkedIn.
Contact:
Josh Griffing
Sales & Marketing Director
+1-860-653-0111, Ext. 275
[email protected]
Kate Finegan
Sales & Marketing Associate
+1-860-653-0111, Ext. 274
[email protected]