Joining Machine fuses thermoplastic pipe and fittings.
Press Release Summary: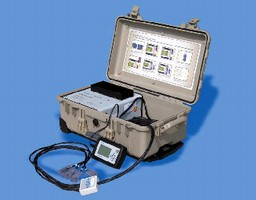 Incorporating electrofusion technology, Electro Plus® fuses 2 thermoplastic parts together by electrical heat resistance. With hand-held user interface, operator can place power unit on floor while using cables and hand-held unit on ladder with pipe and fittings. Product enables user to fuse multiple joints in one fusion cycle, and includes 1-button repeat fusion cycle for same-size joints. Operating from 14-113°F, machine requires 100-130 Vac or 200-250 Vac, 60 Hz AC rms.
---
Original Press Release:

GF Piping Systems Introduces New Electrofusion Joining Machine Featuring Fast, Simple Operation with Hand-Held User Interface and Integral Carrying Case



TUSTIN, Calif. - May 2, 2008 - GF Piping Systems has introduced the Electro Plus® Fusion Machine, designed to simplify and speed the electrofusion joining process of thermoplastic pipe and fittings. The new fusion machine is used to join GF Piping Systems' Fuseal® (polypropylene), Fuseal Squared(TM) Double Containment (polypropylene), Fuseal 25/50(TM) PVDF (polyvinylidene fluoride), and PPro-Seal(TM) Natural PP (polypropylene) piping systems. These corrosion-resistant piping systems are suitable for a wide range of applications including chemical processing facilities, school and hospital labs, pharmaceutical waste systems, semiconductor manufacturing, power plants, pulp and paper mills, corrosive waste, and other industrial applications.

Electro Plus® incorporates advanced electrofusion technology, which fuses two thermoplastic parts together by means of electrical heat resistance. Key to the unit's ease of use is its hand-held user interface. The operator can place the fusion power unit on the floor while using the cables and hand-held unit on a ladder with the pipe and fittings. This allows the joining process to be completed without climbing up and down the ladder for each fusion cycle, providing significant time-saving installation economies. Further time and labor savings is provided through the unit's ability to fuse multiple joints in one fusion cycle and its one-button repeat fusion cycle for same-size joints. Other outstanding features include an intuitive user interface that makes operation extremely user-friendly and self-diagnostics for quick and easy error detection.

The Electro Plus® machine has an operating temperature range of 14°F (-10° C) to 113° F (45° C) and compensates automatically for ambient temperature. Input voltage requirements are 100-130 VAC or 200-250 VAC 60 Hz AC RMS. It weighs only 45 lbs. and measures just 22" x 14" x 10" (W X D x H). The durable design allows for use in harsh field environments, and a built-in safety feature prevents fusion cycle restart without breaking the connection. The unit comes in an integral carrying case for easy transport.

"The Electro Plus Fusion machine provides a new solution for cost-effective electrofusion installation," said Gary Sample, GF Piping Systems Product Manager. "Users will appreciate the simple, fast and easy handling of a fusion machine that can provide reliable fusion joining in significantly less time than other electrofusion machines on the market."

GF Piping Systems supplies a full range of plastic pipe, fittings, tubing, valves, actuators, rotameters, fusion machines, secondary containment, tank linings, heat exchangers, custom products, and sensors and instrumentation for industrial process control. For further information, please contact GF Piping Systems, 2882 Dow Avenue, Tustin, CA 92780-7258; Toll Free (800) 854-4090, Fax (714) 731-6923; e-mail: us.ps@georgfischer.com; Web: www.gfpiping.com

All trademarks are the property of their respective companies.

More from Electrical Equipment & Systems