Johnson Precision, Inc. Adds 3D Prototyping Capability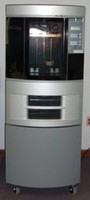 High-Quality U.S. Injection Mold Maker Offers 3D Modeling

(Amherst, NH) Johnson Precision, Inc. (JPI) recently added 3D prototyping capabilities to its arsenal of high-end custom molding and custom machining services.

Already a significant regional and national player in the high stakes, tight-tolerance medical device markets, JPI continues to provide new value-added services, this time with its acquisition of Dimension® 3D Printing Group's Elite 3D printer.

JPI now produces functional models with fine feature detail and improved surface finish utilizing a new, stronger, ABS material, ABSplus, in an 8 x 8 x 12-inch build envelope.

A long-time SolidWorks Network Partner, JPI has extensive experience marrying design ideas and CAD files through 3D solid models and now extends that experience to three-dimensional prototyping.

JPI previously provided more traditional rapid prototyping, primarily utilizing its vast array of low-cost, single cavity book molds. The Dimension Elite 3D printer, however, creates new possibilities.

"Nothing adequately substitutes for the ability to touch, feel and test a part in hand," says JPI chief engineer and owner Richard St.Onge, "and to be able to get the part in a matter of hours, without having to cut tool steel - well, the cost savings are obvious."

3D prototyping brings design concepts to life unlike paper or computer generated 3D modeling. According to St.Onge, "there are times in the middle of forming, before the part is even half-grown, that we can spot design flaws." The flaws may impact the part's functionality or may inhibit tool design but "either way, it is a powerful tool that shortens the design and development cycles, compressing our customers' time to market."

Claude Bessette, JPI general manager, notes that 3D prototyping has multiple applications:

ABS can be drilled, tapped, sanded, painted, and chrome plated. There are numerous secondary operations available. It can be used as a design tool for proof of concept. The samples allow everyone on a design team to review the concepts and in turn provide better feedback for development purposes. It really solidifies the ability to provide meaningful, real time collaboration.

3D modeling allows functional testing opportunities to help customers test form, fit and function in as many design iterations as necessary, at fractions of the cost and time.

With multiple colors available in ABSplus, JPI models are, on average, 40 percent stronger than standard ABS models. ABS and ABS blends are the most commonly used plastics in manufacturing today. They can be found in everything from cell phones to television sets. Its durability allows rigorous testing and won't warp, shrink or absorb moisture.

3D prototyping at JPI - consider the possibilities for your next project.

About Johnson Precision, Inc.
Celebrating over 25 years of craftsmanship, Johnson Precision, Inc. is a full-service custom molding, mold making and machining company. The company specializes in plastic-injected, metal-injected and insert-molded specialty devices. The company produces components and assemblies for a variety of applications including, but not limited to, high-end medical/surgical and electronic devices. Additional manufacturing services include custom machining, laser marking and microscopic TIG welding. The New Hampshire-based company employs more than 60 engineering and production professionals in approximately 50,000 square feet of manufacturing space. JPI is an ISO 9001 certified and registered Veteran Business Enterprise.

Discover what JPI's precision prototyping and manufacturing can do for your company. Contact Kevin M. St.Onge at 603.880.3616, sales@jpi-plastics.com, or visit www.jpi-plastics.com.

More from Machinery & Machining Tools