JLG Launches New 10,000 lb. Capacity Telehandler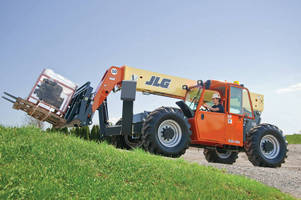 McConnellsburg, Pa., May 11, 2009 - JLG Industries, Inc., an Oshkosh Corporation company [NYSE: OSK], announced today that it is adding a new model to the JLG® line of telehandlers. The new JLG G10-43A model telehandler will be marketed for use in commercial and residential construction applications including steel erection and framing. The new model includes standard outriggers, a maximum capacity of 10,000 lb. and a capacity of 7,000 lb. at the maximum reach height of 43 ft.

"With the additional capacity and a full range of common JLG family attachments, the new G10-43A will provide superior performance in a wide variety of picking and placing applications," said Brian Boeckman, JLG Product Parent for Telehandlers. "Operators will enjoy the same spacious, enhanced-visibility cab and comfortable operator environment available on existing G-Series telehandlers."

In addition to the spacious cab and common attachments, these models feature pilot operated joystick controls, a wrap around dashboard and easy-to-read gauges. The machine also boasts impressive boom speeds and a tighter turning radius than larger 10,000 lb. capacity machines.

With the launch of this new model the JLG branded line-up of telehandlers will include a total of nine construction and three compact telehandlers models.

About JLG Industries, Inc.

JLG Industries, Inc. is the world's leading designer, manufacturer and marketer of access equipment. The Company's diverse product portfolio includes leading brands such as JLG aerial work platforms; JLG, SkyTrak and Lull telehandlers; and an array of complementary services and accessories that increase the versatility and efficiency of these products. JLG is an Oshkosh Corporation company [NYSE: OSK].

For more information about JLG Industries, Inc., log onto the company website: www.jlg.com

About Oshkosh Corporation

Oshkosh Corporation [NYSE: OSK]is a leading designer, manufacturer and marketer of a broad range of specialty access equipment, commercial, fire & emergency and military vehicles and vehicle bodies. Oshkosh Corp. manufactures, distributes and services products under the brands of Oshkosh®, JLG®, Pierce®, McNeilus®, Medtec®, Jerr-Dan®, BAI®, Oshkosh Specialty Vehicles, Frontline(TM), SMIT(TM), Geesink(TM), Norba(TM), Kiggen(TM), CON-E-CO®, London® and IMT®. Oshkosh products are valued worldwide in businesses where high quality, superior performance, rugged reliability and long-term value are paramount.

For more information, log on to www.oshkoshcorporation.com.